Fatal crash at almost 200kph
Shanghai Daily, June 30, 2015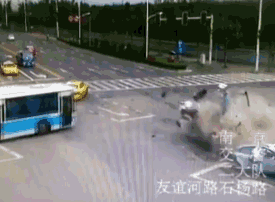 A BMW driver whose car was involved in a fatal collision with a Mazda in Nanjing, capital of east China's Jiangsu Province, on June 20 was traveling at almost 200 kilometers per hour, police said yesterday.
Wang Jijin, 35, is in custody while an investigation into the accident continues.
The male and female occupants of the Mazda died at the scene while the driver of a taxi sustained slight injuries.
Police said Wang, a local businessman, had tested negative for drink or drugs.
The driver of the Mazda was identified as Xue Wei, 25. His family said he had been giving a colleague, Liu Jia, a lift.
According to a local TV channel, the three families met two days after the accident when Wang's wife and his father are said to have apologized to the victims' families and gave each 50,000 yuan (US$8,055). However, Xue's father said the money wasn't enough to cover funeral expenses, it reported.
A witness surnamed Lu told the Modern Express newspaper that the two occupants of the Mazda were thrown from the vehicle on impact. The Mazda then hit the side of an empty bus.
"I saw the Mazda spinning around in mid-air," Lu said. "Its seats, tires and car battery, and their belongings, like bank cards and cash were scattered everywhere."
The BMW stopped after hitting the taxi. Wang is said to have run off but police caught him about 400 meters from the scene, the paper reported.