A video of a commotion on board a Singapore Airlines (SIA) flight has been trending online. In the video, several passengers of an SIA plane that is supposedly waiting to leave for Kolkata, India can be seen arguing with airline employees over why its taking so long for the plane to depart.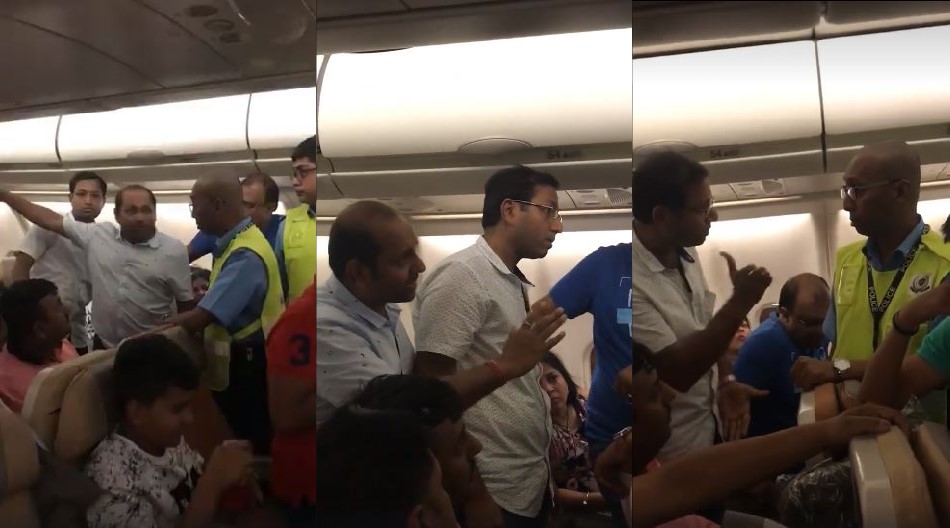 The passengers who can be seen arguing with airline staff in the video take the staff to task for not appropriately informing passengers on what the hold-up is about and for allegedly being rude when passengers questioned what was going on.
Facebook user Chandni Doulatramani shared the video on social media yesterday and shared the frustrations of the passengers on board the SIA plane. Apparently, the flight could not depart due to an issue with the air-conditioner and an SIA air stewardess allegedly admitted that
"
the aircraft hasn't been in use for a long time and so the airconditioning was not working."
Passengers, who were already disgruntled as they were delayed by a bus carrying them to the plane, allegedly felt like prisoners in the plane as they were told to stay put and keep their seatbelts on for hours before the plane took off.
Chandni says that when passengers, who were in the dark about what was going on, tried to seek answers they were rudely shut down:
"
When we confronted the cabin crew, they had no answers, rudely shut us up, threatened to call the cops to arrest us, and said "we are in the same situation as you are, don't ask us, we don't know anything"."
Chandni added:
"The airline didn't let anybody go. We were being treated like prisoners, being asked to sit in our seats and wear our seatbelts. They told us if we were going to offload ourselves then we wouldn't be allowed back in and they would put us on another plane which was two days later and they wouldn't compensate us for any of it."
The traumatic experience, along with the heat and humidity in the aircraft without ventilation, reportedly caused many passengers – including the elderly and the pregnant – to feel sick and throw up. Despite this, airline staff allegedly refused to even offer the sick passengers water.
Sharing how anxious she felt throughout the episode, Chandni recounted:
"When I raised the concern with a ground security police officer, he told me that I shouldn't be on this plane and that I should immediately get off. People were concerned that what was a "minor problem" took THREE HOURS to fix and very few had confidence we would land safely. In a situation like this, we expected the cabin crew to help us understand the problem and reassure us that it was fixed and safe to fly.
"As someone generally very afraid and anxious of flying, I raised the safety concern with a male cabin crew, and a lady cabin staff (also the head) overheard as he was explaining to me what had happened, and nastily asked him to ignore everything I was asking or saying. When I told her how can you ask your staff to ignore a passenger, her response was that she didn't have time for this!"
Chandni – who strongly believes that the airline was racist against Indians and that this would not have happened if the flight was not headed to India – has indicated that she may be planning to sue SIA if they do not compensate the passengers for such an experience.
In the comments section of the post, she added that she hopes the staff lose their jobs: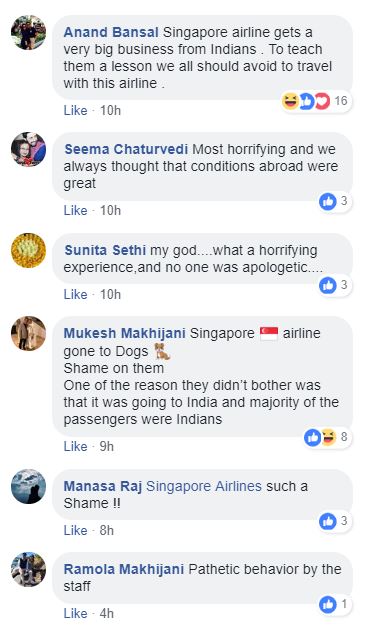 http://theindependent.sg/sia-threat...ty-aircraft-causes-passengers-to-become-sick/