Unless the plot is to let Gay Phone produce only their 1st batch of 5G phones on Huawei Chips then SUE THEIR ASS & Have Court BAN THEIR SALES, just alike Qualcomm did, then fix them more Tua Kee!
https://tech.sina.com.cn/t/2019-04-15/doc-ihvhiewr5882662.shtml
任正非:华为对向苹果等对手出售5G芯片持开放态度
2019年04月15日 08:23
新浪科技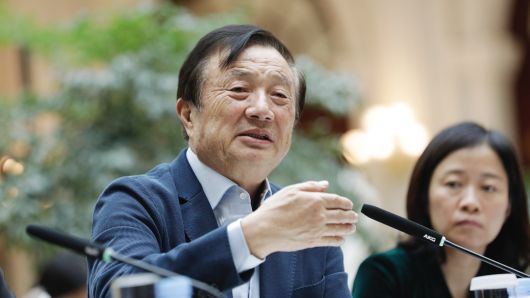 任正非
新浪科技讯 北京时间4月15日早间消息,据美国财经媒体CNBC报道,任正非表示,在向智能手机竞争对手出售高速5G芯片和其它芯片方面,华为持"开放态度",其中也包括
苹果
公司。这表明这家中国科技巨头对其自身知识产权的态度发生了重大转变。
华为是全球最大的网络设备制造商,生产自有品牌智能手机,在相对较短的时间内进入了消费市场,其市场份额很快蹿升到第三位。
华为早期以低价销售手机,但近年来已经转移重点,以增加其在高端市场的份额,与苹果和三星展开竞争。作为此举的一部分,华为开发了自己的芯片,包括为智能手机提供5G连接的调制解调器,以及为其设备供电的处理器。5G是下一代移动互联网,能够以非常高的速度提供数据。
到目前为止,这些技术仅用于华为的设备。但这种情况可能会改变。
在CNBC采访中,华为创始人兼首席执行官任正非表示,该公司将考虑将其5G芯片出售给包括苹果在内的其它智能手机制造商。
"我们在这方面对苹果开放。" 任正非说。
苹果不太可能使用华为的麒麟980处理器,因为它已经拥有自己的处理器,但却可能对5G芯片感兴趣。
苹果尚未发布能够支持5G的设备。该公司以前在iPhone中使用
高通
和
英特尔
的调制解调器,但其最新设备仅使用后者的芯片。苹果和高通陷入了与专利相关的一系列法律诉讼。
高通公司有一款可以支持5G的调制解调器,而英特尔的产品预计在2020年之前不会上市。这意味着如果苹果想要在今年发布一款5G手机,华为可能成为一种可行的选择。
苹果拒绝对此置评。
任正非当天接受采访时还将苹果称作"伟大的公司",称其创始人史蒂夫·乔布斯(Steve Jobs)是"伟人"。
"乔布斯先生很伟大,不是因为他创造了苹果,而是因为他创造了一个时代,移动互联网时代。"任正非告诉CNBC,"说他伟大有点轻描淡写。我觉得他超级伟大。"
华为老板回忆起2011年乔布斯逝世时,他的小女儿安娜贝尔·姚(Annabel Yao)的反应。
"当他去世时,我和家人在山上度假,"任正非说。"我的小女儿是乔布斯的粉丝,所以她建议我们停下来默哀一会儿,我们就这样做了。"
华为一直希望在消费者中挑战苹果,甚至在去年智能手机市场占有率超过该公司。
华为的消费者业务在2018年成为其最大的部门,超越了其核心网络业务。华为在2010年发布了第一款华为品牌的智能手机。那是一款价格低廉的手机,该公司在最初几年推出了一些廉价设备。
任正非承认华为当时在智能手机战略中犯了错误,但他们从中吸取教训。
"我们根据成本设定价格,但成本相对较低。我们的成本很低源自两个原因。首先,随着我们的技术迅速发展,我们设法降低了产品的成本。其次,由于我们引入的西方管理方法,我们的运营成本也保持在较低水平。"他说。
"因此,"他补充说,"我们将价格设定在一个相对较低的水平,这使得西方公司很难与我们竞争。我们已经对此进行了很多反思。"
"我们提高了价格,现在很多人认为华为很贵,"他补充说。(书聿)
Https://tech.sina.com.cn/t/2019-04-15/doc-ihvhiewr5882662.shtml
Ren Zhengfei: Huawei is open to selling 5G chips to rivals such as Apple
April 15, 2019 08:23 Sina Technology
Ren Zhengfei Ren Zhengfei
Sina Technology News Beijing time on April 15 morning news, according to US financial media CNBC report, Ren Zhengfei said that in the sale of high-speed 5G chips and other chips to smartphone competitors, Huawei is "open-minded", including Apple . This shows that the Chinese technology giant has undergone a major change in its attitude towards its own intellectual property rights.
Huawei is the world's largest manufacturer of network equipment, producing its own brand of smart phones, entering the consumer market in a relatively short period of time, and its market share quickly rose to third place.
Huawei sold mobile phones at low prices in the early days, but in recent years it has shifted its focus to increase its share in the high-end market and compete with Apple and Samsung. As part of this move, Huawei developed its own chips, including modems that provide 5G connectivity for smartphones and processors that power their devices. 5G is the next generation mobile Internet that delivers data at very high speeds.
So far, these technologies are only used for Huawei devices. But this situation may change.
In an interview with CNBC, Huawei founder and CEO Ren Zhengfei said that the company will consider selling its 5G chips to other smartphone manufacturers including Apple.
"We are open to Apple in this regard." Ren Zhengfei said.
Apple is unlikely to use Huawei's Kirin 980 processor because it already has its own processor, but it may be interested in 5G chips.
Apple has not released a device that can support 5G. The company previously used Qualcomm and Intel's modems on the iPhone, but its latest devices use only the latter's chips. Apple and Qualcomm are caught in a series of legal proceedings related to patents.
Qualcomm has a modem that can support 5G, and Intel's products are not expected to be available until 2020. This means that if Apple wants to release a 5G phone this year, Huawei may become a viable option.
Apple declined to comment.
Ren Zhengfei also called Apple "a great company" in an interview on the same day, saying that its founder, Steve Jobs, was a "great man."
"Mr. Jobs is great, not because he created Apple, but because he created an era of mobile Internet." Ren Zhengfei told CNBC, "It is a little understatement to say that he is great. I think he is super great."
Huawei boss recalled the reaction of his younger daughter, Annabel Yao, when Jobs died in 2011.
"When he died, my family and I were on vacation in the mountains," Ren Zhengfei said. "My little daughter is a fan of Jobs, so she suggested that we stop and mourn for a while, and we will do it."
Huawei has always wanted to challenge Apple among consumers, even surpassing the company in the smartphone market last year.
Huawei's consumer business became its largest department in 2018, surpassing its core network business. Huawei released the first Huawei-branded smartphone in 2010. It was a low-cost mobile phone, and the company introduced some cheap devices in the first few years.
Ren Zhengfei admitted that Huawei made mistakes in the smartphone strategy, but they learned from it.
"We set prices based on cost, but the cost is relatively low. Our low cost comes from two reasons. First, as our technology develops rapidly, we manage to reduce the cost of the product. Second, because of the Western we introduced Management methods, our operating costs are also kept at a low level," he said.
"So," he added, "we set the price at a relatively low level, which made it difficult for Western companies to compete with us. We have already reflected this a lot."
"We have raised the price, and many people now think Huawei is very expensive," he added. (Book)