Last night Israel is still attacking Syria with tiny amount of missile without any admission. Trying to hit and act blur as usual.
http://www.xinhuanet.com/photo/2018-04/17/c_129852011.htm
叙利亚防空系统拦截多枚射向叙两个空军机场的导弹
2018年04月17日 09:51:59 | 来源:
新华网
  4月17日,在叙利亚首都大马士革,城市南部有疑似防空导弹划过天空。
  据叙利亚媒体17日报道,当天凌晨,有6枚导弹射向叙中部霍姆斯省附近的沙伊拉特军用机场,叙防空系统拦截了其中大部分导弹。另有3枚导弹射向叙首都大马士革附近的杜迈尔军用机场,在击中目标前被叙防空系统全部拦截。
  新华社记者郑一晗摄
https://www.express.co.uk/news/worl...nti-aircraft-Israel-Assad-Putin-USA-UK-France
Syria AIRSTRIKE – Military responding to 'ISRAELI ATTACK' in Damascus and Homs
SYRIA'S air-defences have been firing at "unidentified objects" over Damascus in what is believed to be an Israel airstrike, it has been reported.
By
Joseph Carey
PUBLISHED: 02:15, Tue, Apr 17, 2018 | UPDATED: 05:10, Tue, Apr 17, 2018
1K
Getty
Syria attack: Anti-aircraft are responding to the attack
Syria state television has confirmed its air defences are repelling attacks in the country's Homs region.
The military announced at around 1.10am local time (11.10pm GMT) that it had fired missiles towards the Shay'rat Airbase, to the south-east of Homs, and its surrounding area in the Homs Governorate.
Local reporter Ibrahim Joudeh took to Twitter and posted a video of the missiles being shot at in the sky.
He said: "Video shows Missile launched against unknown Target in Far East Damascus countryside."
Related articles
Mr Joudeh added shortly after that "another air defence missile was just launched".
According to local reports, several missiles were launched after "unknown warplanes" entered Syrian airspace from Lebanon.
A military source added the Syrian military believes Israeli warplanes were responsible.
Also a number of local reporters have said there are "Israeli warplanes" flying at high-altitude carrying out the attack after crossing the borders through Lebanon.
Anti-war protestors demonstrate against Syrian military strikes
Mon, April 16, 2018
The Stop the War Coalition has organised a demonstration outside London's Houses of Parliament
Play slideshow
Sebastian Kettley
1 of 14
A demonstrator wears a Donald Trump mask to convey his distain for militiary action
Initial reports claim the raid is aimed at the T4 base, but others say it is aimed at Shyrat AB which was hit last year in the US Tomahawk attack.
A source within the Syrian Army told local media site Al-Masdar that the T4 base was the operation's "likely target".
May: I made the decision to take military action in Syria
They added that several explosions were heard near the base.
A statement from the Syrian regime added that several missiles were intercepted, but these reports are unconfirmed.
The Syrian Arab News Agency (SANA) declared that at least nine Israeli missiles were shot down.
There are currently no reports of targets hit in Damascus.
Reports say six missiles have hit Shayrat air base in Homs and three missiles have hit Dumayr airbase, but these are unconfirmed so far.
The attack comes after reports of covert airstrikes carried out by Israeli forces at Iranian bases in the Jabal Azzan region south of Aleppo.
Syria air strikes latest pictures: US, UK and France attack Damascus
Sun, April 15, 2018
The United States, France and Britain have launched military strikes in Syria to punish President Bashar Assad for an apparent chemical attack against civilians and to deter him from doing it again.
Play slideshow
REUTERS
1 of 24
The destroyed Scientific Research Centre is seen in Damascus
He explained: "Syrian MoD claims to have intercept three missiles that struck Dumair military Airport northeast of Damascus and six missiles launched towards Shayrat military Air Base in Homs."
The Pentagon has declared there is "no US military activity near Homs at this time".
It added: "We do not have additional details to provide."
The recent incident follows a coordinated attack by the US, UK and France that saw over 100 missiles launched from US ships and UK Tornado fighter-bombers.
The strike was designed to disable the country's use of chemical weapons after it allegedly used chlorine against rebels in Douma, eastern Ghouta on April 7.
https://www.huffingtonpost.com/entr...siles-homs-report_us_5ad53412e4b077c89cebd8d5
Syrian Air Defense Shoots Down Missiles Near Airbase: State Media
A Pentagon spokesman said there was no U.S. military activity in that area at this time.
Suleiman Al-Khalidi
X
AMMAN (Reuters) -Syrian anti-aircraft defenses shot down missiles fired at the Syrian air base of Shayrat in Homs province late on Monday and another base northeast of the capital, Damascus, Syria's state television and pro-Iranian Hezbollah media said.
State television showed pictures of a missile that was shot in the air above the air base only days after a U.S., British and French attack on Syrian targets in retaliation for a suspected chemical attack on the city of Douma on the outskirts of Damascus.
State television did not mention three missiles that were fired at Dumair military airport, northeast of Damascus, that pro-Iranian Hezbollah's media service reported were intercepted by Syrian air defenses.
Opposition sources say Dumair airport is a major air base used in a large-scale military campaign waged by the Syrian army with Russian firepower that regained eastern Ghouta, a rebel enclave on the outskirts of Damascus.
A Pentagon spokesman said there was no U.S. military activity in that area at this time.
Asked about the missile attack, an Israeli military spokesman said: "We don't comment on such reports."
Shayrat air base was targeted last year in a U.S. cruise missile attack in response to a chemical attack that killed at least 70 people, including children, on the rebel-held town of Khan Sheikhoun.
Israel has struck Syrian army locations many times in the course of the conflict, hitting convoys and bases of Iranian-backed militias that fight alongside Syrian President Bashar al- Assad's forces.
Israel has long said Iran was expanding its influence in a belt of territory that stretches from the Iraqi border to the Lebanese border, where Israel says Iran supplies Hezbollah with arms.
Hezbollah and other Iranian-backed militias have a large military presence in Syria and are well entrenched in central and eastern areas near the Iraqi border.
(Reporting by Suleiman Al-Khalidi in Amman; Additional reporting by Nayera Abdullah in Cairo, Yara Bayoumy in Washington and Maayan Lubell in Jerusalem; Editing by Leslie Adler and Peter Cooney)
MORE:
Russia
Syria
Politics And Government
Israel
https://www.rt.com/news/424336-lieberman-syria-action-freedom/
Israeli defense minister claims right of 'total freedom of action' in Syrian airspace
Published time: 17 Apr, 2018 01:11 Edited time: 17 Apr, 2018 02:13
Get short URL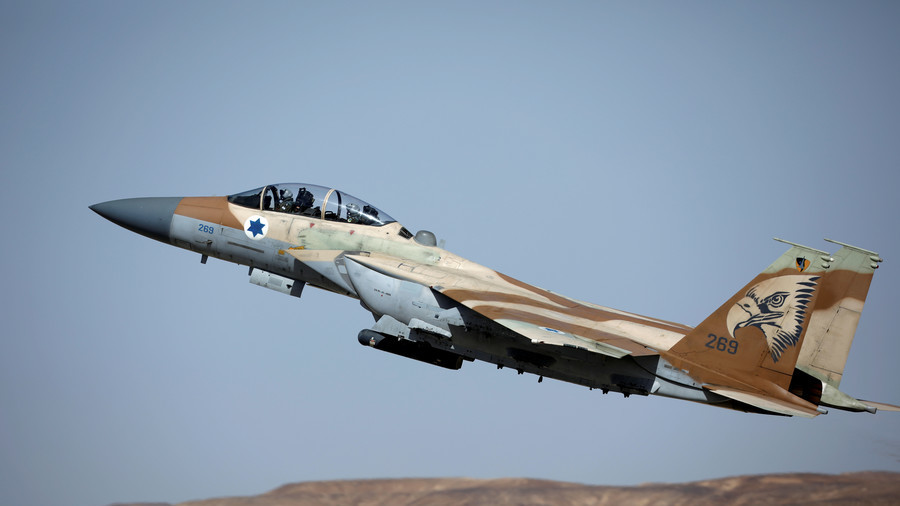 FILE PHOTO: Israeli F-15 fighter jet © Amir Cohen / Reuters
Israel will not accept any limitations to its operations in Syrian airspace against 'Iranian threat', the defense minister said, expressing hope that "communication" lines with Moscow will help avoid any "friction" in the air.
On Tuesday morning, a series of missile strikes once again targeted Syrian military infrastructure. The Pentagon, which led the coordinated April 14 assault against Syrian targets with its British and French allies, denied its involvement in attacking a new set of targets. Israel, which struck Syria's Tiyas (T-4) airfield in Homs province on April 9, also failed to acknowledge bombing its neighbor.
Yet the new attack against Syria comes just hours after Israeli Defense Minister Avigdor Lieberman vowed to protect the country's national interests through breaching Syrian airspace if necessary.
Read more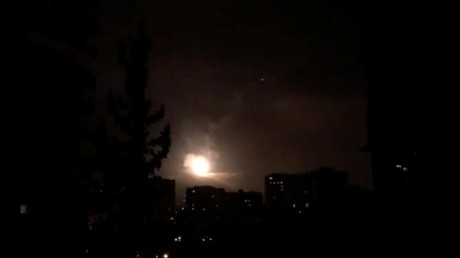 Syrian air defenses repel missile strike against Shayrat air base in Homs province – state media
"We will maintain total freedom of action. We will not accept any limitation when it comes to the defense of our security interests,"
Lieberman told Walla News on Monday,
noting
that
"all options are on the table."
Two Israeli F-15 fighters targeted Syria's T-4 airbase in Homs province, the Russian Defense Ministry revealed after the surprise attack on April 9. The jets fired eight guided missiles, but five of them were shot down before they hit the airfield. The attack on the T-4 base came at a critical time after Western powers accused the Syrian government and vowed retaliation for an alleged chlorine attack in the militant-held town of Douma on April 7.
Russia, which has a military coordination hotline with Israel to avoid clashes over Syria,
called
the strike a
"very dangerous development."
Moscow also noted earlier that it will shoot down any projectiles that could threaten Russian personnel on the ground.
On Monday, Lieberman praised the Israeli-Russian deconfliction hotline, noting the success of the established mechanism to avert any
"friction"
in the Syrian skies.
"We do not want to provoke the Russians,"
Lieberman told Walla News. "
We have an open line of communication at the level of senior officers. The Russians understand us and the fact is that for years we have managed to avoid friction with them."
READ MORE: Israeli missile strike 'indirect response' to Syrian Army's success in E. Ghouta – Damascus
While respecting Russia's interests in Syria, Israel will keep on confronting the Iranian threat on its borders, Lieberman noted, reiterating Tel Aviv's position that Israeli armed forces have the right to strike Iranian-linked targets that Israel believes are destined for Lebanese Hezbollah.
Read more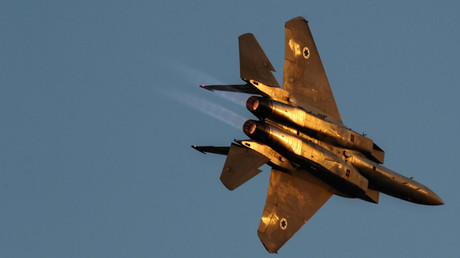 2 Israeli warplanes carried out strikes on Syrian airbase – Russian MoD
"We have to do what we are forced to do. We will not allow Iranian consolidation in Syria,"
Lieberman said.
"We will not tolerate a significant Iranian military force in Syria in the form of military ports and airports or the deployment of sophisticated weaponry."
Speaking to members of the IDF General Staff later on Monday, the defense minister called for
"further strengthen preparedness"
for the Israeli military to tackle the Iranian threat.
"We are facing a new reality—the Lebanese army, in cooperation with Hezbollah, the Syrian army, the Shiite militias in Syria and above them Iran—are all becoming a single front against the State of Israel,"
Lieberman
noted
.
The T-4 strike earlier this month, which Israel has yet to officially acknowledge,
reportedly
targeted Iran's drone program. The attack allegedly killed seven Iranian soldiers out of at least 14 reported fatalities.
On Monday, Iranian Foreign Ministry Spokesman Bahram Qassem condemned the attack, noting that Israel will
"sooner or later receive the necessary responses to its recent crime and aggression."