http://www.wsaz.com/content/news/Pu...s-after-US-led-strike-on-Syria-479848063.html
Putin warns of global 'chaos' after U.S.-led strike on Syria
By Phil McCausland - NBC, WSAZ News Staff
|
Posted: Mon 6:27 AM, Apr 16, 2018
(NBC) --
Russian President Vladimir Putin warned of global "chaos" on Sunday in a phone conversation with Iran's president as the two men discussed the U.S.-led strike on Syria.
According to a statement, Putin and Iranian President Hassan Rouhani discussed the missile attack that targeted a science lab and two chemical weapons depots and agreed "that this illegitimate action has seriously damaged the prospects for a political settlement in Syria," the statement from the Kremlin said.
President Donald Trump ordered the military strike early Saturday in coordination with France and Britain. The White House intended the strike to deter Syrian President Bashar al-Assad from using chemical weapons after a suspected attack using sarin and chlorine gas killed dozens of people last week in the rebel stronghold of Douma, east of Damascus.
Putin and Iran have maintained their support for Assad despite his continued use of chemical weapons, which Russia said it would stop in 2013. On Saturday, the Russian government went so far as to introduce a U.N. resolution that condemned coalition forces for launching the joint airstrike.
That resolution was voted down, earning "yes" votes only from Russia, China and Bolivia. But that didn't appear to affect Putin's opinion.
"Vladimir Putin, in particular, emphasized that if such actions continue in violation of the UN Charter, this will inevitably lead to chaos in international relations," the Kremlin said in a statement about the call.
Although the White House and the Defense Department made it clear that they intended to pursue only the one strike unless Syria used chemical weapons again, the U.S. ambassador to the United Nations, Nikki Haley, underscored that the United States is "locked and loaded" in her statement on Saturday.
"When our president draws a red line, our president enforces the red line," Haley said at an emergency U.N. meeting called by Russia. "We are prepared to sustain this pressure if the Syrian regime is foolish enough to test our will."
Haley followed up with an appearance on CBS' "Face the Nation" on Sunday in which she promised further consequences for those allied with Assad, namely Russia and Iran.
"You will see that Russian sanctions will be coming down," she said. Treasury Secretary Steven Mnuchin "will be announcing those on Monday, if he hasn't already. And they will go directly to any sort of companies that were dealing with equipment related to Assad and chemical weapons used."
UPDATE: Trial for mother accused of killing 3-year-old begins Monday
Keep us in your Facebook news feed
https://www.japantimes.co.jp/news/2...ia-also-seen-pulling-back-brink/#.WtS1aPYRWKk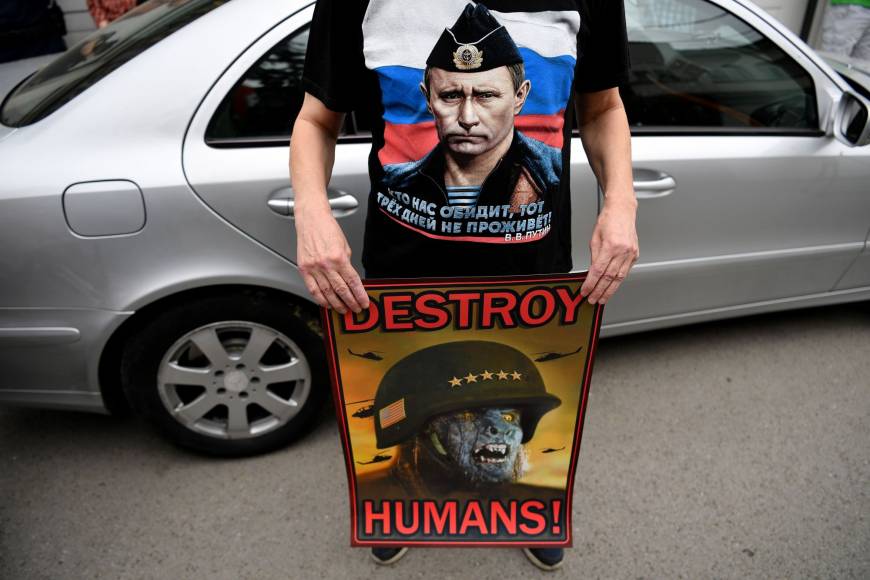 Serbian protester wearing a T-shirt showing Russian President Vladimir Putin holds an anti-NATO poster during a demonstration against Western airstrikes on the Syrian regime, in Belgrade on Sunday. | AFP-JIJI
World / Politics
Putin threatens global 'chaos' if West hits Syria again as U.S. eyes fresh sanctions
Reuters
MOSCOW/DAMASCUS – Russian President Vladimir Putin warned on Sunday that further Western attacks on Syria would bring chaos to world affairs, as Washington prepared to increase pressure on Russia with new economic sanctions.
In a telephone conversation with his Iranian counterpart, Hassan Rouhani, Putin and Rouhani agreed that the Western strikes had damaged the chances of achieving a political resolution in the 7-year-old Syria conflict, according to a Kremlin statement.
"Vladimir Putin, in particular, stressed that if such actions committed in violation of the U.N. Charter continue, then it will inevitably lead to chaos in international relations," the Kremlin statement said.
U.S. Ambassador to the United Nations Nikki Haley told the CBS TV program "Face the Nation" that the United States would announce new economic sanctions Monday aimed at companies "that were dealing with equipment" related to Syrian President Bashar Assad's alleged chemical weapons use.
On Saturday, the United States, France and Britain launched 105 missiles targeting what the Pentagon said were three chemical weapons facilities in Syria in retaliation for a suspected poison gas attack in Douma on April 7.
The Western countries blame Assad for the Douma attack that killed dozens of people. The Syrian government and its ally Russia have denied involvement in any such attack.
The bombings marked the biggest intervention by Western countries against Assad and ally Russia.
French President Emmanuel Macron said on Sunday that he had convinced Trump, who previously said he wanted to take U.S. forces out of Syria, to stay for "the long term."
The United States, France and Britain have said the missile strikes were limited to Syria's chemical weapons capabilities and not aimed at toppling Assad or intervening in the civil war. Macron said in an interview broadcast by BFM TV, RMC radio and Mediapart online news that he had convinced Trump to focus on the chemical weapons sites.
The White House pushed back against Macron's comments about Trump's intentions for U.S. forces.
"The U.S. mission has not changed — the president has been clear that he wants U.S. forces to come home as quickly as possible," White House spokeswoman Sarah Sanders said.
"We are determined to completely crush ISIS and create the conditions that will prevent its return." she said, referring to the Islamic State extremist group. "In addition we expect our regional allies and partners to take greater responsibility both militarily and financially for securing the region."
Responding to Haley's remarks about the plans for new sanctions, Evgeny Serebrennikov, deputy head of the defense committee of Russia's upper house of parliament, said Moscow was ready for the penalties, according to RIA news agency.
"They are hard for us, but will do more damage to the USA and Europe," RIA quoted Serebrennikov as saying.
In Damascus, Syrian Deputy Foreign Minister Faisal Mekdad met inspectors from the global chemical weapons watchdog Organisation for the Prohibition of Chemical Weapons (OPCW) for about three hours in the presence of Russian officers and a senior Syrian security official.
The inspectors were due to attempt to visit the Douma site. Moscow condemned the Western states for refusing to wait for the OPCW's findings before attacking.
Mekdad declined to comment to reporters waiting outside the hotel where the meeting took place.
Assad told a group of visiting Russian lawmakers that the Western missile strikes were an act of aggression, Russian news agencies reported.
Russian agencies quoted the lawmakers as saying that Assad was in a "good mood", had praised the Soviet-era air defense systems Syria used to repel the Western attacks and had accepted an invitation to visit Russia at an unspecified time.
Trump had said: "Mission accomplished" on Twitter after the strikes, although U.S. Lt. Gen. Kenneth McKenzie at the Pentagon acknowledged elements of the program remained and he could not guarantee that Syria would be unable to conduct a chemical attack in the future.
Russian and Iranian military help over the past three years has allowed Assad to crush the rebel threat to topple him.
Although Israel has at times urged stronger U.S. involvement against Assad and his Iranian and Lebanese Hezbollah reinforcements in Syria, it voiced backing for Saturday's air strikes by Western powers.
The leader of Lebanon's Hezbollah said Sunday that Western strikes on Syria had failed to achieve anything, including terrorizing the army, helping insurgents or serving the interests of Israel.
Sheikh Hassan Nasrallah said the U.S. military had kept its strikes limited because it knew a wider attack would spark retaliation from Damascus and its allies and inflame the region.
"The American (military) knows well that going toward a wide confrontation and a big operation against the regime and the army and the allied forces in Syria could not end, and any such confrontation would inflame the entire region," Nasrallah said.
The heavily armed, Iranian-backed Shiite Hezbollah movement, which fights alongside the Syrian Army and is represented in the Beirut government, has been a vital ally of Damascus in Syria's war.
France, the United States and Britain circulated a draft resolution to the U.N. Security Council late Saturday that aims to establish an independent inquiry into who is responsible for chemical weapons attacks in Syria. The mechanism would look at cases where the OPCW fact-finding mission has established chemical weapons were used or likely used.
Diplomats said negotiations on the draft resolution would begin on Monday and it was not immediately clear when the United States, France and Britain wanted to put it to a vote.
https://www.bloomberg.com/news/articles/2018-04-16/for-putin-and-trump-the-worst-is-yet-to-come
For Putin and Trump, the Worst Is Yet to Come
By
Gregory White
and
Kathleen Hunter
April 16, 2018, 6:25 PM GMT+8
Mute
Current Time 0:01
/
Duration Time 2:48
Captions
U.S. Led Strikes Against Syria Send Message to Russia
Control Risks' Chamorro Says Syria Attack Was Message to Russia
Want to receive this post in your inbox every morning? Sign up for the Balance of Power newsletter, and follow Bloomberg Politics on Twitter and Facebook for more.
The U.S.-led strikes in Syria have put Russia and the U.S. at odds again and set an exclamation point on how swiftly ties between the former Cold War foes
have deteriorated
.
But Russian markets are
shrugging off
the latest risk, even with the threat of more U.S. sanctions to come, and officials have been quick to declare that the worst is over.
There remain plenty of reasons for worry. In Washington and Moscow, decision makers have all but given up hope for any improvement in relations. Russia's preparing its retaliation for the latest sanctions, which Washington has said won't be the last. And the possible U.S. pullout from the Iran nuclear deal will only add to tensions in the Middle East.
Even if investors hope President Vladimir Putin might be seeking a lull before Russia hosts the World Cup this summer, geopolitics aren't likely to play along.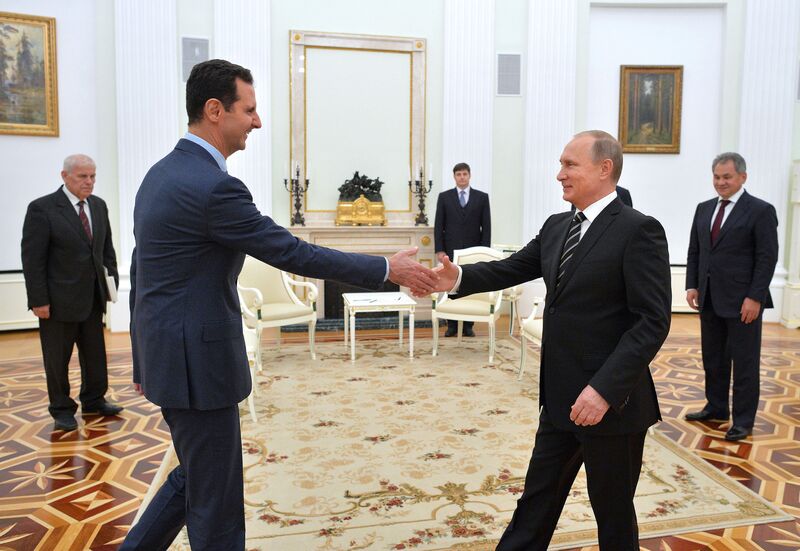 Putin greets Syrian President Bashar al-Assad, during a 2015 meeting at the Kremlin.
Photographer: ALEXEY DRUZHININ/AFP/Getty Images
Global Headlines
Trump's headaches
| The U.S. president yesterday asked a judge to block his own Justice Department from viewing evidence about his private lawyer that was seized last week in an FBI raid. That extraordinary step came the same day that ousted FBI director James Comey called Trump "
morally unfit
" for office in a prime-time television interview. Comey said he couldn't rule out the possibility that Moscow has incriminating information about the president.
Merkel's Trump problem
| Germany's decision to leave France and the U.K. to join the U.S. in hitting Syria may be rooted in Germany's postwar aversion to using military force, but that doesn't help Chancellor Angela Merkel's troubled relations with Trump. As Arne Delfs and Jennifer Jacobs
report
, on the eve of a visit to Washington, she's finding it increasingly hard to gain Trump's ear, leaving one of America's most loyal allies sidelined.
Kim's trump card
| If the U.S. president presses Kim Jong Un to give up his nuclear arsenal when they meet face to face, he'll be asking the North Korean leader to surrender more than a half century's labor.
Andy Sharp and Kanga Kong
look at how three generations of Kims have repeatedly chosen the bomb as their best guarantee of survival despite decades of negotiations, sanctions and threats of war
—
and why that's unlikely to change.
Balkan comeback
| Two years since he quit as prime minister after accusing Russia of trying to kill him in an alleged coup attempt, Milo Djukanovic won Montenegro's presidential election with a vow to lead the country into the European Union. Once an ally of Serbian strongman Slobodan Milosevic, Djukanovic has pivoted to become one of the most pro-Western leaders in a region where Russia, the U.S., the EU and Turkey are all vying for influence.
Sweden's rising star
| The 38-year-old leader of Sweden's nationalist party is poised to become a power broker after the Nordic country's election in September. Amanda Billner and Hanna Hoikkala profile Jimmie Akesson, who predicts that Brexit will hasten the downfall of the European Union
—
an outcome he views as a good thing.
emergency debate
is planned for today in the House of Commons after U.K. Prime Minster Theresa May conceded that lawmakers should have the retrospective right to consider
—
and possibly a vote
—
on her decision to take part in the strikes on Syria.
—
Trump travels to Florida to host a roundtable on small business tax cuts as
Republicans struggle
to make the tax legislation in December a winning election issue.
—
Nafta negotiators dig in for more technical talks in Washington, as
persistent differences
among the U.S., Canada and Mexico stymie Trump's push for a quick deal.
And finally
… It was a dinner fit for kings. As an Arab League summit in Dhahran, Saudi Arabia concluded yesterday, Crown Prince Mohammed bin Salman hosted a dinner party for some of his guests. Prince Mohammed is the fourth one down on the left, and Saud Al-Qahtani, an adviser to the royal court who tweeted the photo, is the first on the right. But who are the other (visible) ones? DM your answers to @bpolitics.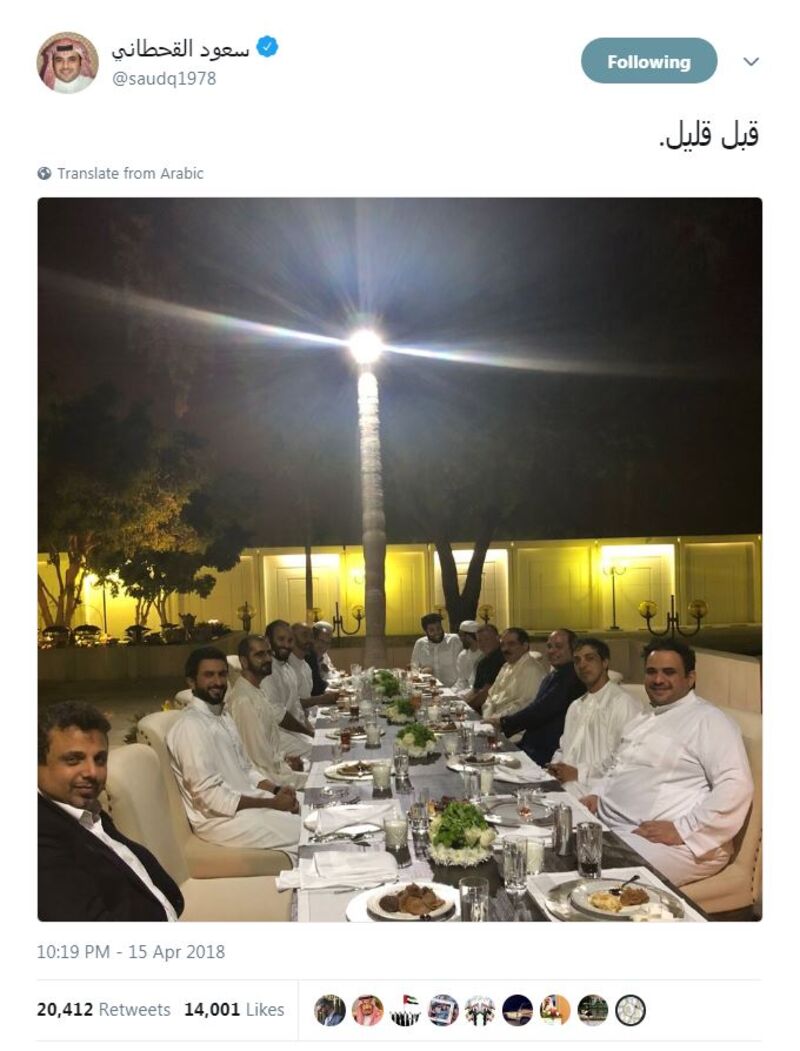 Photo from the
Twitter account
of Saudi Arabia's Saud Al-Qahtani, an adviser to the royal court.
— With assistance by Michael Winfrey, Andrew J Barden, Alan Crawford, and Brendan Scott