www.channelnewsasia.com
Asia
Multiracialism will lead to erosion of Malay rights in Malaysia: Mahathir​
Former Malaysia prime minister Mahathir Mohamad had earlier said that a multiracial Malaysia would be "unconstitutional".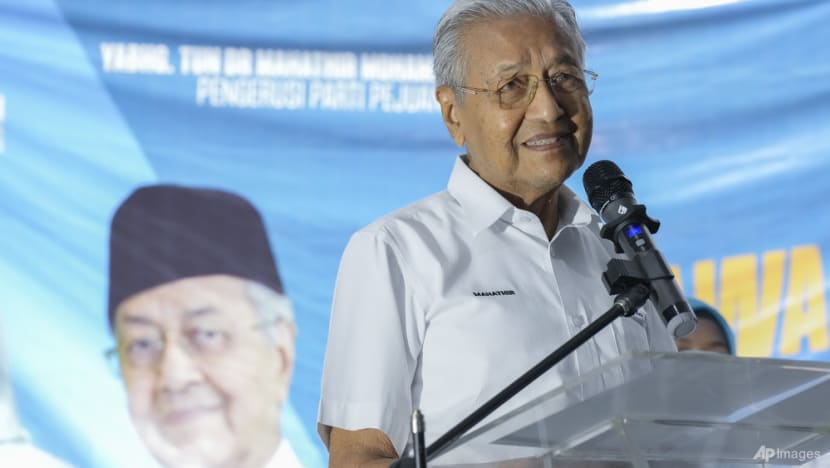 Former Malaysia prime minister Mahathir Mohamad speaking at a rally during campaigning for the 15th General Election on Nov 15, 2022. (AP Photo/Vincent Thian)
​
04 Jul 2023 06:39PM (Updated: 04 Jul 2023 06:46PM)
SINGAPORE: The concept of a multiracial Malaysia introduced by certain parties within the federal government is akin to the notion of a "Malaysian Malaysia" slogan that was introduced by the late Lee Kuan Yew when Singapore was still part of the country, former Malaysian prime minister Mahathir Mohamad said on Tuesday (Jul 4).
Dr Mahathir also said that a multiracial Malaysia will erode Malay rights and make them "poor".
He was doubling down on his statement the day before that promoting a multiracial Malaysia is unconstitutional, arguing that the federal constitution never mentioned that Malaysia was multiracial.
His remarks were seen as a veiled swipe at the current unity government led by Prime
In his Facebook post on Tuesday, Dr Mahathir said that the Chinese-based Democratic Action Party (DAP) - with the support of Parti Keadilan Rakyat (PKR) and Parti Amanah Negara (Amanah) - has introduced a concept that sees Malaysia as a multiracial country.
The three are component parties within the Pakatan Harapan coalition.
"In a multiracial country, there is no difference in standard between the Malays who are indigenous, and immigrants as well as their descendants," Dr Mahathir wrote.
He stressed that the idea of a "Malaysian Malaysia" was not new and had been attempted by then-People's Action Party leader Lee Kuan Yew. Prior to that, Dr Mahathir said that a similar attempt was made by the British during the Malayan Union.
He said that a "Malaysian Malaysia" will lead to an erosion of Malay land.
"A Malay country needs to be changed to a multiracial country (to make) a Malaysian Malaysia.
"Malay land will be eliminated and replaced with a multiracial country (that is) Malaysian Malaysia," Dr Mahathir said.
Dr Mahathir also touched on how Malay rights will be eroded due to multiracialism, claiming that Malays will become poor and have their land sold mostly to rich immigrants. The government will also sell its estate to other "rich entities" that are mostly not Malay-based, he said.
"Finally, the Malaysian government will not be able to be influenced by Malays. We are seeing in the region places that are no longer ruled by Malays, the Malays are having terrible luck."
However, Dr Mahathir denied that he was trying to scare the Malays amid efforts to promote a multiracial Malaysia.
A lot of Malays think a multiracial Malaysia will only entail racial equality in politics, but they do not see other changes that will occur, he said.
"We have seen and can study what has happened to other Malay land that is now owned by non-Malays," he added.
"See it and take note. Those who do not see it will become victims who are already extinct."
This is not the first time that Dr Mahathir has warned about the potential erosion of Malay rights under the current government.
Since failing to defend his Langkawi seat at the 15th General Election in November last year, he has authored a Malay Proclamation that purportedly aims to protect the interests of Malays, and has been questioned by police over this campaign.
​