Teacher suicide exposes parent bullying in S Korea​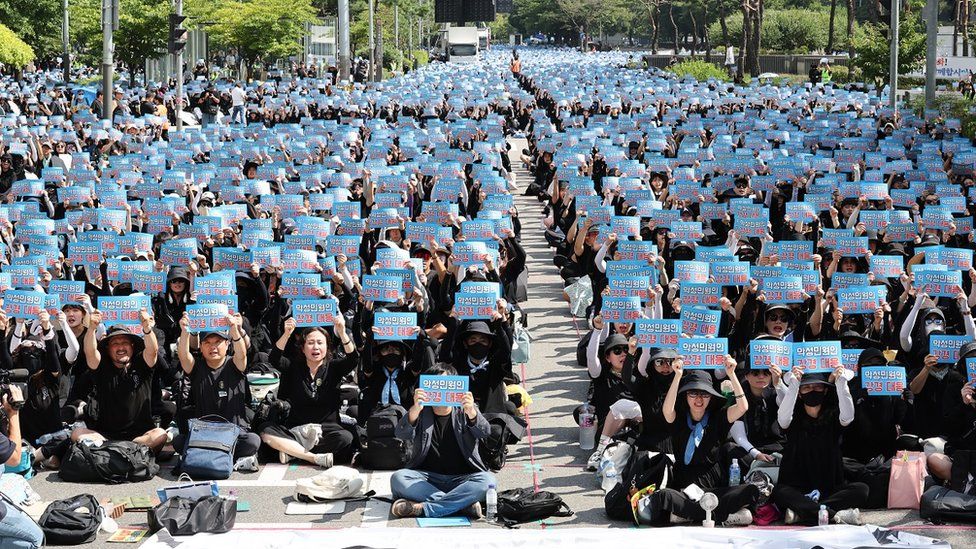 IMAGE SOURCE,COURTESY NEWS1
Image caption,
A teacher's suicide has sparked huge protests in Seoul - more than 100,000 teachers protested over the weekend
By Jean Mackenzie
Seoul correspondent
On 5 June, Lee Min-so* described in her diary the fear that overtook her body as she entered her classroom to teach: "My chest feels too tight. I feel like I'm going to fall somewhere. I don't even know where I am."
On 3 July the primary school teacher wrote that she had become so overwhelmed by the craziness of work she "wanted to let go".
Two weeks later, the 23-year-old was found dead in her classroom store cupboard by her colleagues. She had taken her own life.
This tragedy has unleashed a wave of anger from primary school teachers across South Korea.
Tens of thousands of them went on strike on Monday to demand better protection at work. They say they're frequently harassed by overbearing parents, who call them all hours of the day and weekends, incessantly and unfairly complaining.
Min-so's cousin, Park Du-yong, struggles not to cry as he straightens out her small, empty apartment, now home to just her goldfish. Her bed is unmade, and beside it sits a pile of drawings from her first-grade students, telling her how much they loved her. Underneath is a stack of library books on how to cope with depression.
Park says his cousin had been teaching for little over a year, fulfilling her childhood dream by following her mother into the profession. She had adored the kids, he says.
So in the days after his cousin's death, which police quickly pinned on a recent breakup, Park assumed the role of detective. He unearthed hundreds of diary entries, work logs and text messages.
They revealed that in the months leading up to her suicide, Min-so had been bombarded by complaints from parents. Most recently, one of her pupils had slashed another child's head with a pencil, and she'd been embroiled in heated late phone calls and messages with the parents.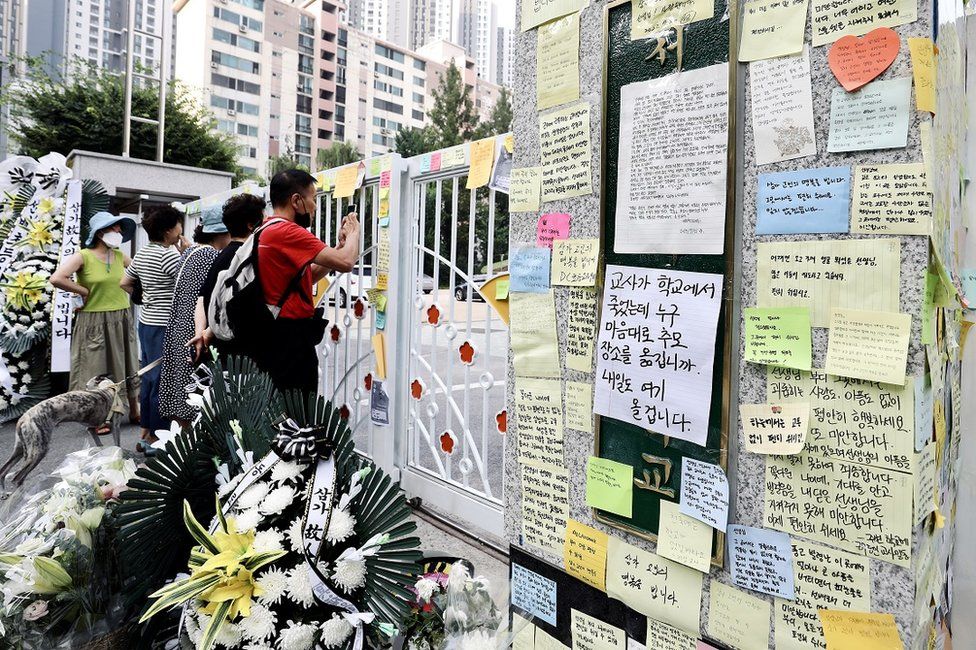 IMAGE SOURCE,NEWS1
Image caption,
People pay respects at the primary school where a 23-year-old teacher took her own life
For the past six weeks, tens of thousands of teachers have rallied in Seoul, claiming they are now so scared of being called child abusers, they are unable to discipline their students or intervene as they attack each other.
They accuse parents of exploiting a child welfare law, passed in 2014, which dictates that teachers who are accused of child abuse are automatically suspended.
Teachers can be reported for child abuse for restraining a violent child, while a telling off is frequently labelled as emotional abuse. Such accusations can see teachers immediately removed from their jobs.
One teacher received a complaint after denying a parent's request to wake their child up with a phone call each morning. Another was reported for emotional abuse after taking reward stickers off a boy who had cut his classmate with scissors.
Kim said she reached the point where she did not feel she could safely teach her class: "We teachers feel extremely disempowered. Those who have had experienced this first-hand are fundamentally changed, and those who haven't, have seen it happen to others, so either way it is debilitating."
Fuelling this culture of complaining is South Korea's hyper-competitive society, where almost everything hinges on academic success. Students compete fiercely for the best grades from a very young age, to one day get into the best universities. Outside school, parents send their children to study at expensive extra-curriculum schools known as hagwons, which operate from 5am to 10pm. Whereas families in Korea used to have five or six children, now most have just one, meaning they have just one shot at success.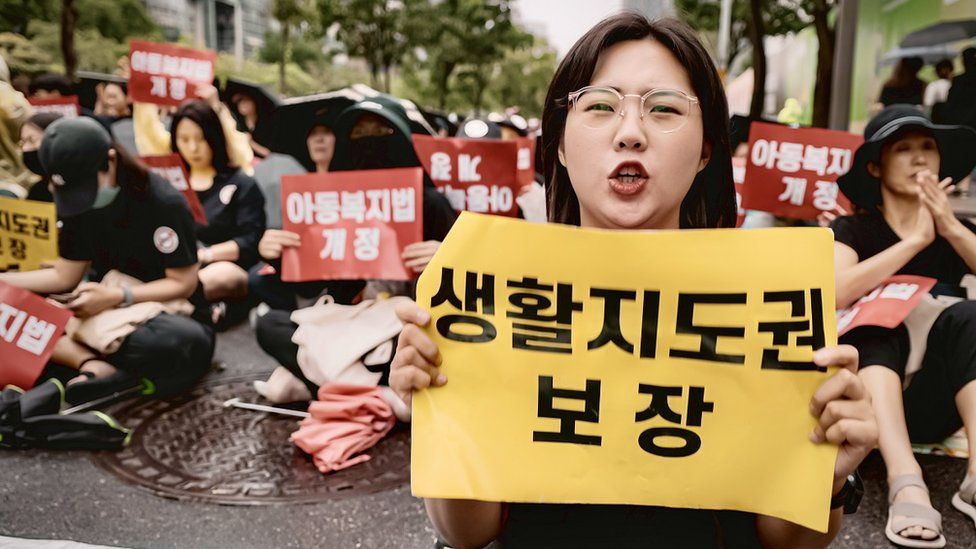 IMAGE SOURCE,BBC/ HOSU LEE
Image caption,
Kim Jin-seo said her job had caused her to have suicidal thoughts
Professor Kim Bong-je, who trains future teachers at Seoul National University of Education, said rising inequality was also to blame.
Traditionally, Korea had a very strong culture of respecting teachers, he explained, but because of the country's rapid economic growth, many parents are now highly educated. "This means they often look down on teachers," he said. "They think they have paid for them with their taxes. This creates a strong sense of entitlement."
Another teacher, Kwon, told us that in the 10 years he had been teaching he had taken two periods of sick leave to cope with depression and panic attacks, triggered by the stress caused by parents and pupils.
"Their mentality is 'only my child matters', and when all you can think about is sending your own child to a good college, you become very selfish," he said. He has no doubt this pressure filters through to the children, affecting their behaviour too. "They don't know how to release this pressure, so they act out by hurting each other."
Bullying and violence among pupils are known problems in South Korean schools. Last year's popular K-drama The Glory centred around a woman seeking revenge on her former bullies. It was based on true events, and depicted some disturbing acts of violence. In a plot twist, the show's director was himself accused of bullying and forced to apologise.
In February, the government, under pressure to address the issue, announced that pupils' bullying records would be included in their university applications. While hoping to incentivise students not to bully each other, this has further fuelled parents' anxieties, causing them to pile pressure on teachers to erase their child's wrongdoings.
Shin Min-hyang, who runs the organisation Solidarity for the Protection of Human Rights of Students and Parents, admitted much of the behaviour highlighted over the past month was unacceptable, but argued that these cases were outliers.
"The vast majority of parents behave well, and we are concerned that the channels we use to communicate our concerns will now be cut off. Parents are being framed as the culprit, and it is not right," she said.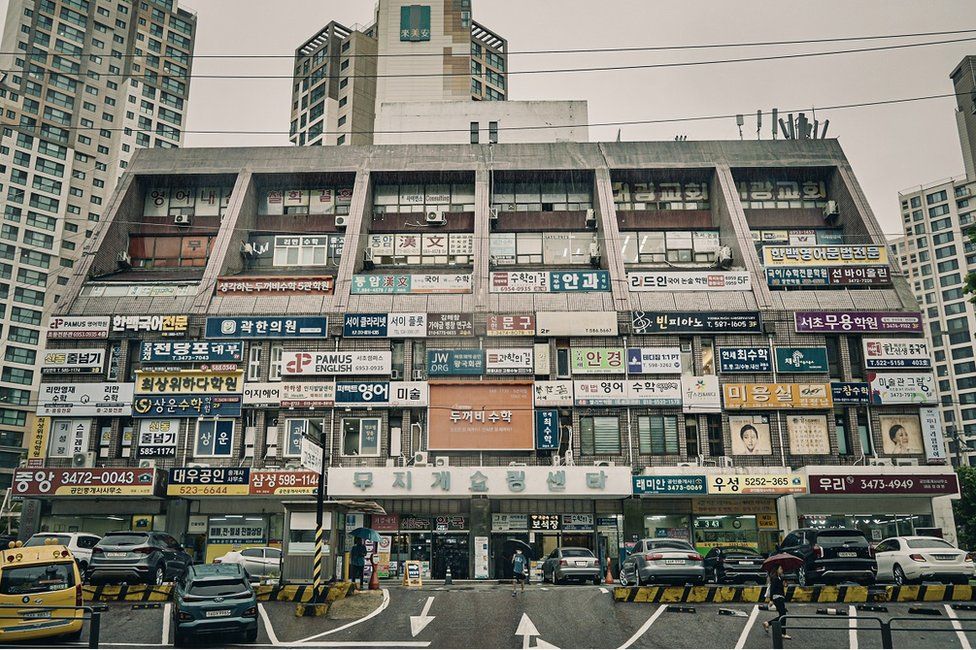 IMAGE SOURCE,BBC/ HOSU LEE
Image caption,
A building filled with after-school classes known as hagwons, which operate from 5am to 10pm
But Shin admitted she had complained about teachers in the past and would like more input over what her child was taught and how they were disciplined.
One parent, who did not want to be named, said he worried complaints had spiralled out of hand. He showed us the contents of a group chat, in which parents were encouraging each other to harass a teacher over a decision she had made. "If your number gets blocked, then use your family and friends' phones to call," one parent on the chat had instructed.
"If teachers don't have the power to intervene with problematic students, then others will be negatively affected," the unnamed parent told us.
The government has agreed its classrooms are "broken". It has issued new guidelines to teachers, stating that teachers will be able to remove disruptive students from the classroom and restrain them if necessary. They say that parents must agree with teachers the date and time of meetings in advance, and teachers can refuse to meet after work.
South Korea's education minister Lee Ju-ho said he hoped these measures "would return schools back to what they should be".
But there are plenty here who argue it is not just classrooms that are broken - that South Korea's entire education system needs to be reformed, along with society's narrow definition of success, because everyone stands to benefit from a society where grades do not make or break lives.
*We have changed the name of the deceased at the request of her family.
Additional reporting by Hosu Lee and Lee Hyun Choi