Are Thailand's 'weak laws' turning Bangkok heritage area into a 'China town'?​
Recent news reports, including arrest of alleged gangster 'Tuhao', spotlight illegal, lucrative enterprises run by Chinese nationals in Thailand
Observers say the country must better protect local businesses as Thai-Chinese residents say new money from mainland China is squeezing them out
Thailand
+
my
NEWS

Jitsiree Thongnoi
in Bangkok
+
my
NEWS
Published: 11:00am, 4 Feb, 2023
Why you can trust SCMP
115
6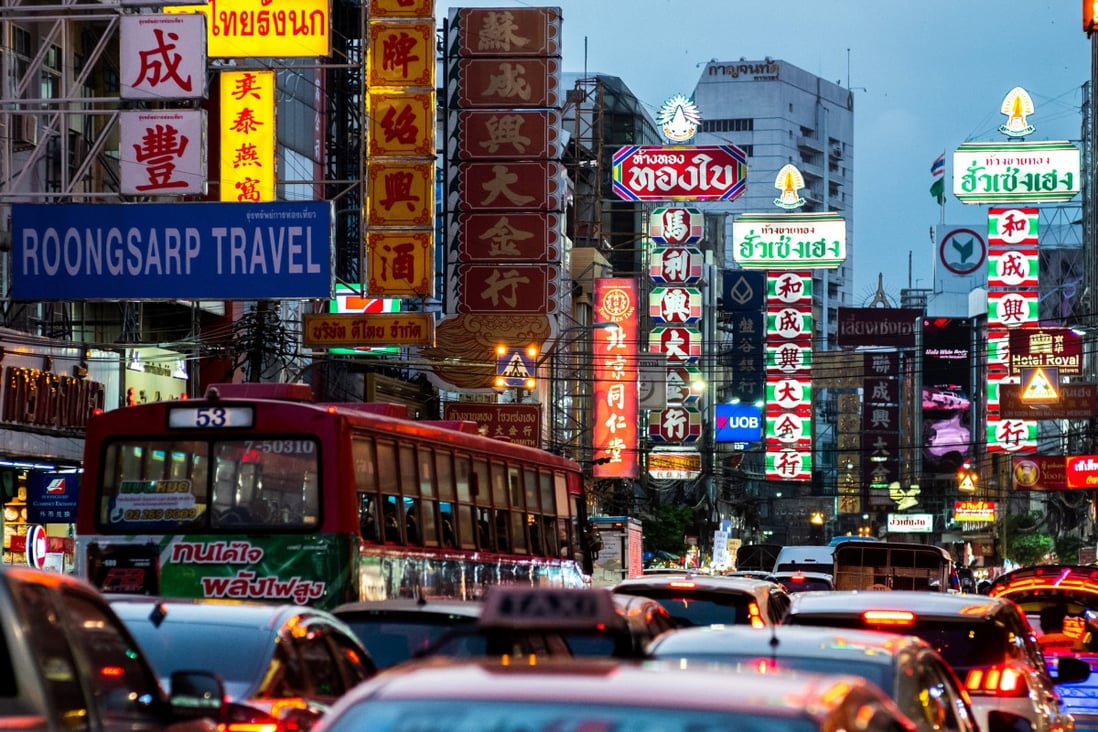 Residents of Bangkok's Chinatown say Chinese money is squeezing them out. Photo: Reuters/File
Bangkok's Chinatown has become the latest arena for an ongoing tussle over the influence of Chinese citizens in
Thailand
, after a hotpot restaurant used social media to rail at foreign visitors running businesses illegally and elbowing out local residents.
Recent headlines about illegal, lucrative enterprises run by Chinese nationals in Thailand have thrown a spotlight on the vast finances and connections with people in power that outsiders are able to make.
A case in point was the arrest of an alleged Chinese gangster called 'Tuhao', who is accused of running a nightlife and drugs empire for mainly Chinese customers. He has had more than US$300 million worth of assets seized by Thai authorities.
But as China reopens its borders – and Bangkok gets ready for the scheduled return of tour groups from the country in early February – a new sore point has emerged: surging competition from Chinese citizens running restaurants, massage parlours and souvenir shops in the historic zone.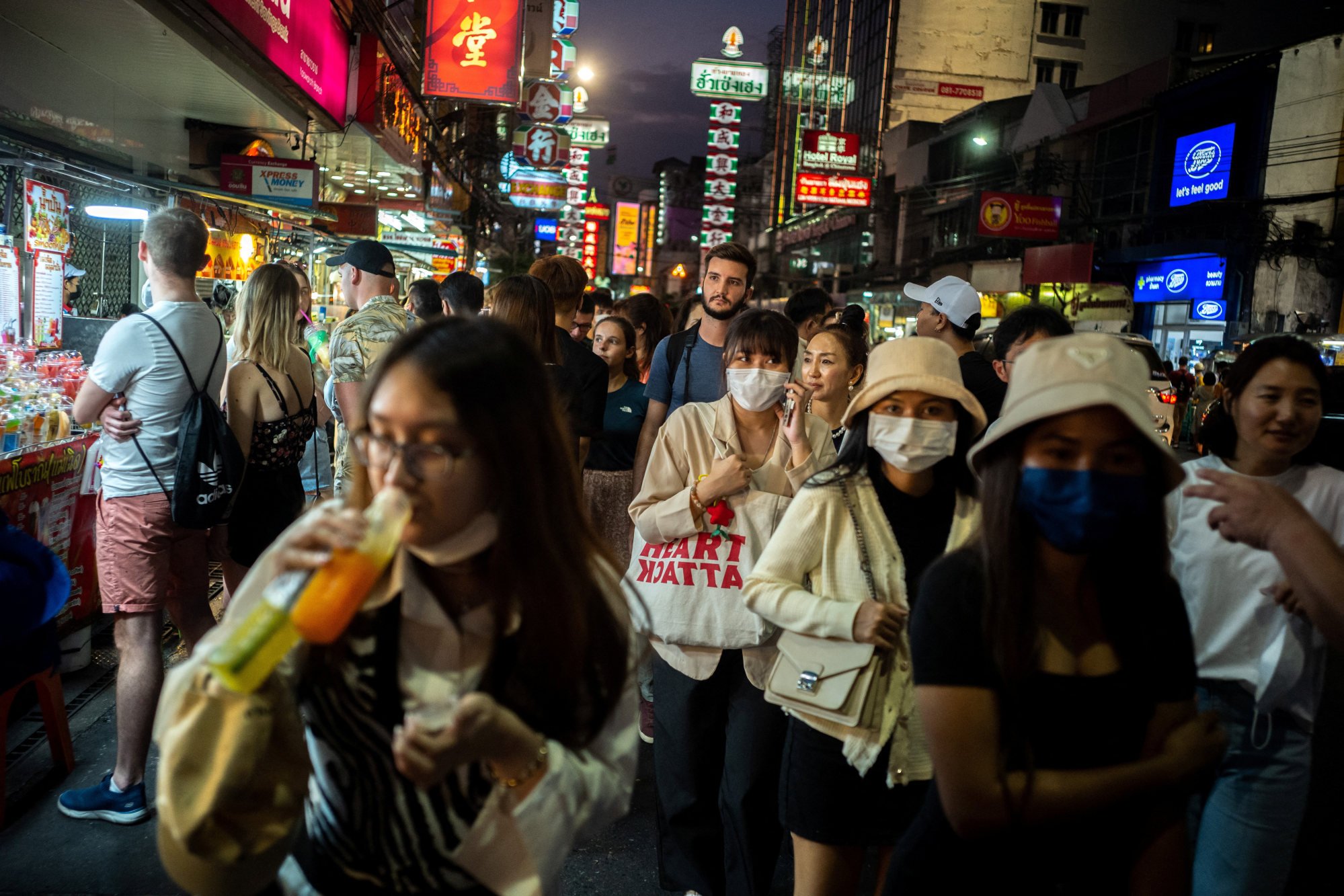 Tourists in Bangkok's Chinatown. The Thai capital is preparing for the return of tour groups from mainland China on February 6. Photo: Reuters
A
Facebook
post in early January by Among Hotpot sparked anger over the apparent presence of Chinese-run restaurants in an area dominated by Thai-Chinese.
"Thai law is very lenient for foreigners," read the post. "Chinese, with only tourist visas, can open a restaurant, a massage shop or any shop. Visit Yaowarat and Sampeng (a famous open-air market) and you will find shops that are run by Chinese – some through Thai nominees – instead of Thai-Chinese like before."
The post was later deleted but not before sparking furious debate over the presence of Chinese nationals in an area where many are proud of their ancestral roots, but are more closely invested in their unique community in Bangkok.
Unlike people of Chinese descent in neighbouring
Singapore
or
Malaysia
who are mostly of Hoklo heritage, the Teochew people who sailed to Thailand from China centuries ago have long dominated the Thai-Chinese community in Bangkok centred on Yaowarat Road, which was completed in 1900, more than a century after the city was founded in 1782.
"Thai people cannot be quiet. Thai-Chinese are Thai … but we cannot let Chinese from the mainland come to take advantage of us," one post responding to a YouTube news clip of the uproar said.
Other social media users pointed at the relationship between those breaking the law, and those making and enforcing it.
EVERY MONDAY
The most pressing stories and in-depth analysis from the Asia region, sent to you each week.
GET THE NEWSLETTER
By registering, you agree to our
T&C
and
Privacy Policy
"Super weak Thai laws and bureaucrats. In Thailand everything is really for sale," one post read.
Following the outcry, Thai authorities promised a crackdown. On January 24, Thai police searched several restaurants in Bangkok's Huay Kwang district, an area known as 'new Chinatown' due to its concentration of Chinese-run businesses. At least three Chinese nationals were arrested on suspicion of working in a restaurant illegally.
Thailand looks to China​
The issue is simmering as Southeast Asia's second-largest economy deepens its dependence on
China
.
Thailand is among the first 20 countries set to welcome Chinese tour groups again from February 6. Think tank Kasikorn Research expects 4.6 million Chinese nationals to visit Thailand in 2023. Before the pandemic in 2019, that number was 11 million. Before the, 11 million Chinese visited in 2019.
China was Thailand's second-largest investor in 2022 with investments totalling 23.3 billion baht (US$709 million), according to the Thai commerce ministry.
Chinese nationals are also the biggest buyers of condominium apartments in Thailand, snapping up almost half the total value of all units owned by foreigners as of the third quarter in 2022.
While many welcome the influx of wealthy newcomers keen to visit and spend their money in Thailand where the economy was scorched by the pandemic, others are more circumspect over the speed of economic and cultural change large numbers of Chinese are bringing.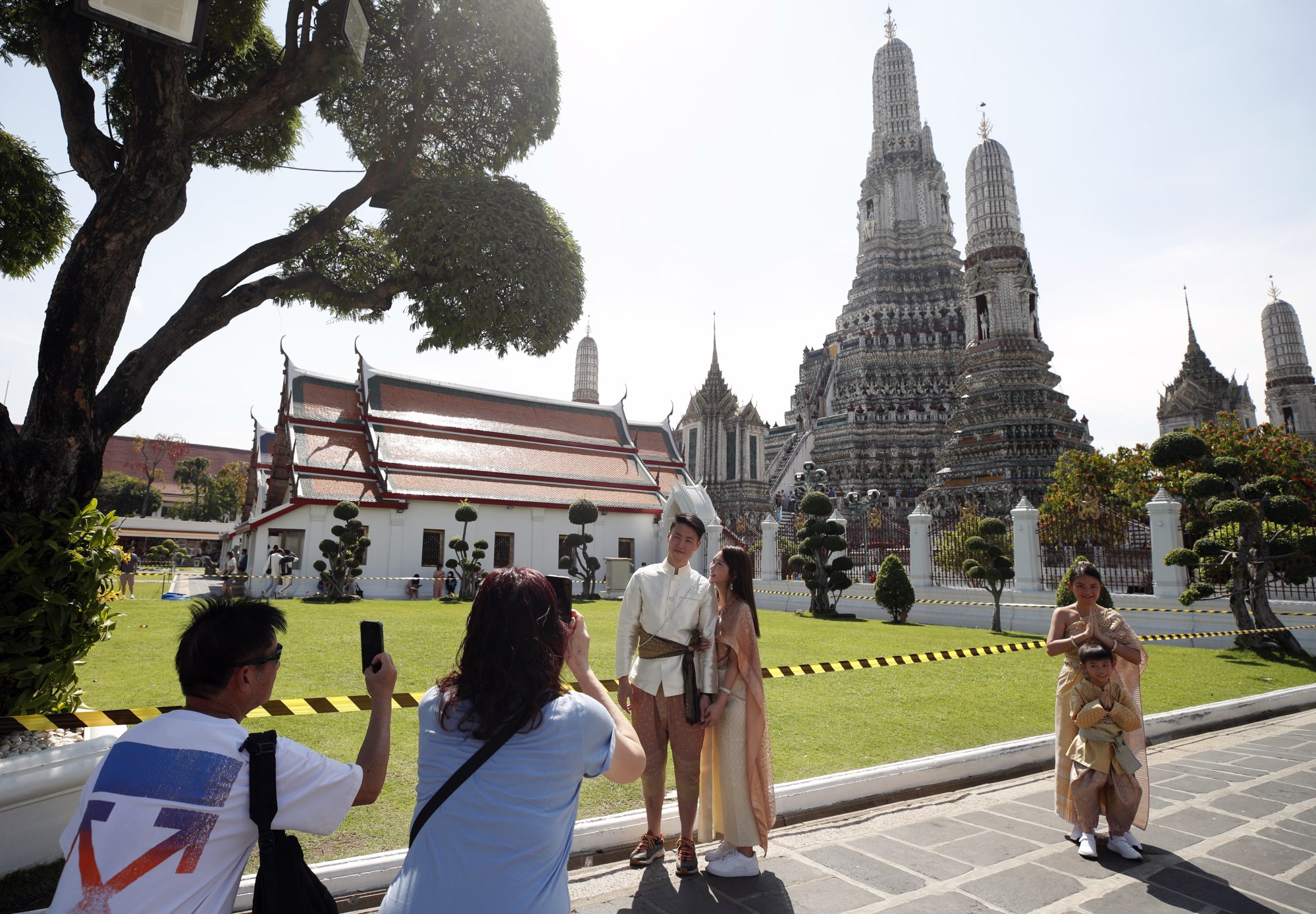 Thailand is projected to welcome five million Chinese visitors in 2023. Photo: EPA-EFE
Jane (not her real name) a Bangkok native in her 20s of Teochew heritage, said that recent trips to a local market in Yaowarat to buy imported cooking ingredients from China had been "a shocking experience".
"For the past seven to eight years, I have seen many [new] mainlanders settle in Yaowarat and open shops here," she said. "On the outside they look like the usual Thai-Chinese. However, they don't speak Thai well and their language is Mandarin.
"Their attitude towards bargaining and their scaling units when selling things, for example, are also different from what I am used to."
Jane says the area's unique identity as one of the world's most famous Chinatowns – known for its mouthwatering food, buzzing street life and as a business and cultural centre for Thai-Chinese – needs to be preserved.
"If possible I'd like to support the Thai-Chinese shops, rather than the Chinese-run shops," she said. "If I have to come here to buy things from the Chinese-run shops I'd rather buy things from e-commerce websites."
As China reopens to the world and millions of its nationals
prepare to head to Thailand this year
, Thai-Chinese like Jane are worried that the influx may ultimately squeeze out local players – driving up rents, while price wars squash profits.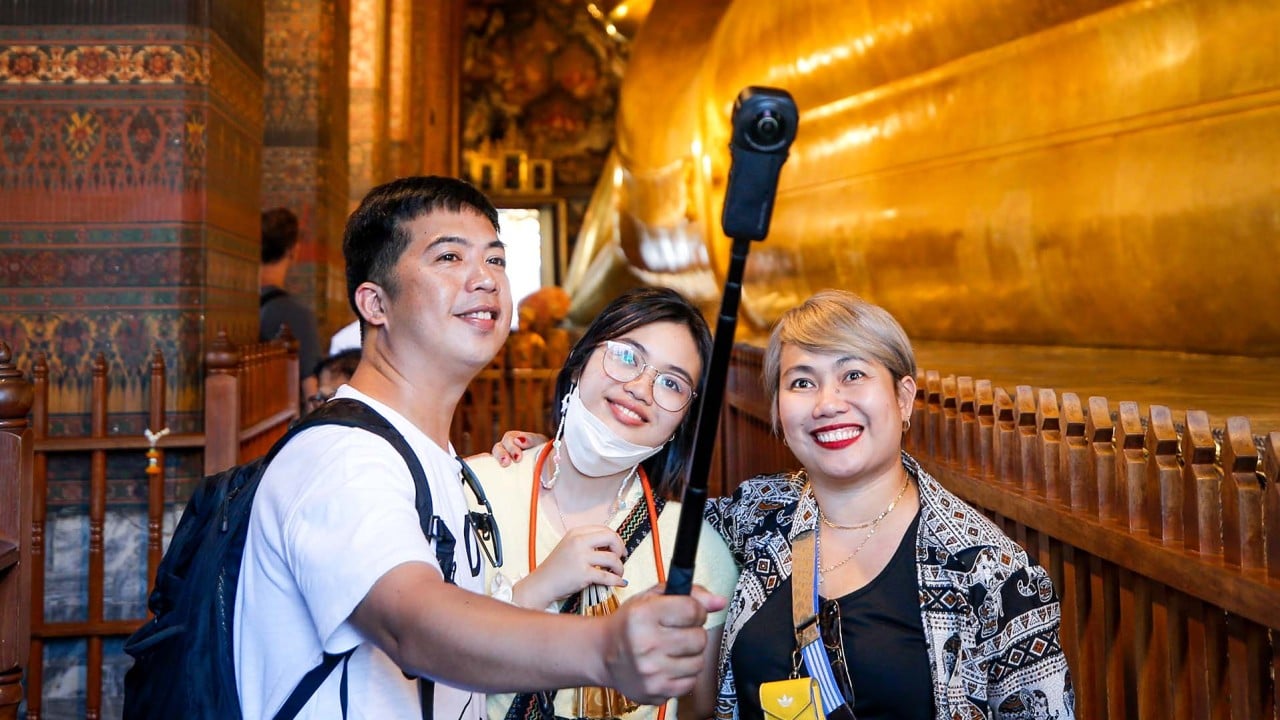 01:13
Foreign tourists return to Thailand, with 10 million visiting the Asian tourist hub in 2022
Foreign tourists return to Thailand, with 10 million visiting the Asian tourist hub in 2022​
Bangkok beckons China's youth​
Chada Triamvithaya, a Chinese studies expert at Thailand's King Mongkut's Institute of Technology, described Thailand's "new Chinese" as those who moved over the last decade seeking economic opportunities. It was an emigration trend partially put on hold by border pandemic closures, but likely to rebound in the coming months.
"In Yaowarat and Sampeng, Chinese began to set up shops selling electronics devices but later they started to import clothing and accessories, and during Covid, masks from China to sell," she said.
"While Thai sellers import goods from China via suppliers, Chinese can import goods directly, or cooking materials if they open a restaurant, and can sell at a cheaper price.
"Sometimes they don't have to know anyone here to do business but it can be people in the tour companies that arrange their visit can arrange the business set-up for them," Chada added.
Real estate analyst Sopon Pornchokchai said Thailand was a relatively easy option for people who want to leave China.
"In China, if you want to trade there a licence is required," he said, adding that related property laws, or the lack thereof, played a major role in helping foreign businesses thrive in Thailand.
"And compared to Singapore or Hong Kong where there is a 30 per cent property buying tax. Thailand doesn't have this. Our property tax is often undervalued by government assessment, same with the capital gains tax."
On January 18, the Thai attorney general pressed multiple charges against Chinese businessman Tuhao – who became a Thai citizen with the name of Chaiyanat Kornchayanant – and 40 others. The indictments included narcotic offences, money-laundering, transnational crimes, illegal operation of entertainment venues and the employment and accommodation of illegal migrants.
Chinatown will become a 'China town' without proper management. Interests and jobs have to be managed and shared, trading must be fairChada Triamvithaya, China studies expert​
It was one of the country's largest-ever crackdowns on foreign criminal activities on Thai soil. Tuhao is alleged to have had political connections and the scale of his wealth, measured out in seized mansions and a fleet of supercars, stunned Thais. Tuhao denies all charges against him.
But once the dust settles on the scandals the larger issue remains: unease over the coming changes to Bangkok's Chinatown.
Thailand's economic revival is "seen as placed in Chinese hands", says Chinese studies expert Chada, citing the inbound Chinese tourists who arrived last month after China reopened its borders.
"Chinatown will become a 'China town' without proper management. Interests and jobs have to be managed and shared, trading must be fair."