Illegal Sydney warehouse parties, lives lost to AIDS, and gay liberation: photographer William Yang captured it all​
Published: February 20, 2023 1.06am GMT
theconversation.com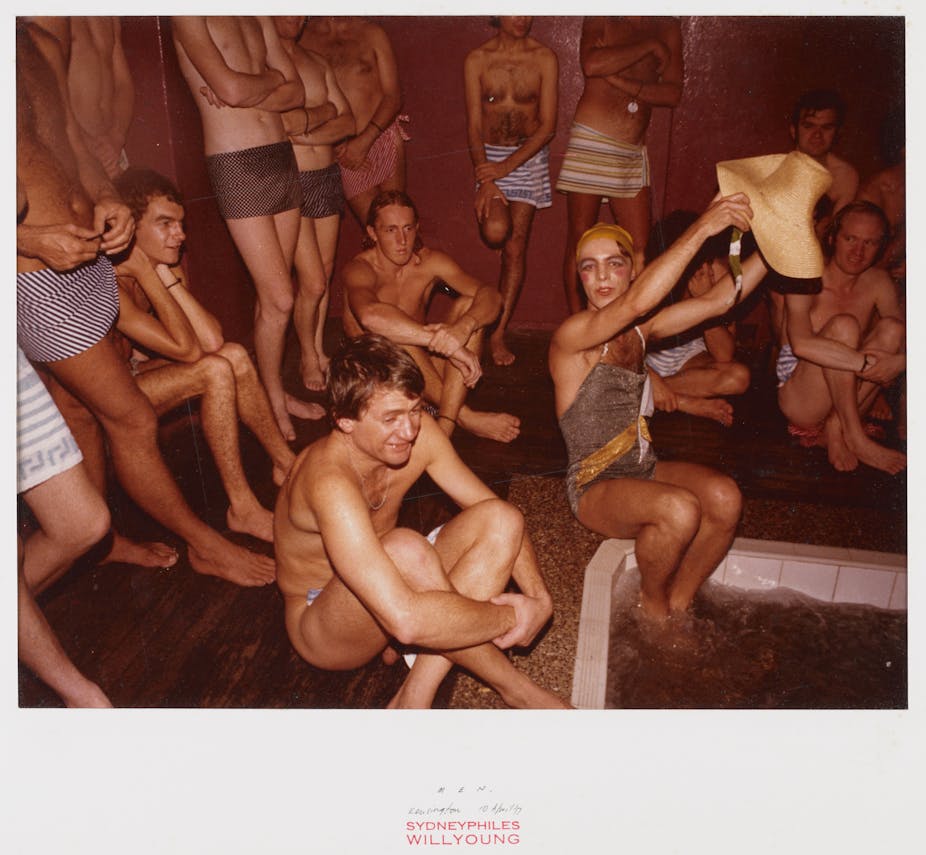 Review: William Yang's Sydneyphiles Reimagined, State Library of New South Wales.
We are all photographers now, since the advent of smartphones and the selfie. So it may seem strange to be writing a review of an exhibition of photographs when, in their digital form, they are both ubiquitous and at the same time largely redundant.
William Yang's photographs in Sydneyphiles offer the complete opposite of the selfie. Instead of the throwaway image, he offers carefully framed and curated portraits.
In his famous slideshow performances, he narrates the events behind the pictures and names the subjects so they are not forgotten or discarded. In doing this, Yang also ensures he is still part of the picture, just as he is a part of the community of artists and gay radicals he has lived among and photographed. He brings the pictures back into the present moment.
---
---
Alternative Sydney up close​
William Yang (pronounced Young but he says he doesn't care anymore) is 80 this year. He has seen the alternative cultures of Sydney up close, in a way few people alive have.
He never goes far without his cameras, shooting social events over the past 50 years for the social pages of newspapers and fashion magazines.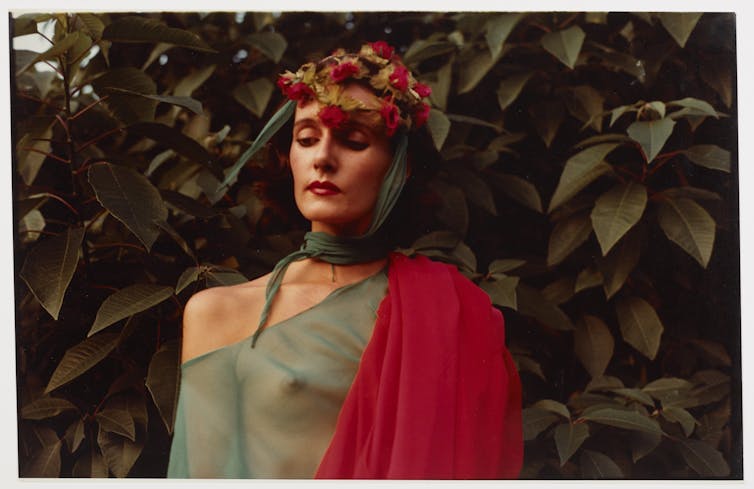 ​
Linda Jackson, 1976. William Yang
Yang has an extensive visual record of Sydney cultural life, beginning with his first ever exhibition of photographs, Sydneyphiles. Sydneyphiles was shown at the then ACP gallery in Oxford Street, Paddington in 1977, documenting the mainstream Sydney social scene and the then illegal gay party scene in the years since his arrival in Sydney in 1969.
It is a priceless resource, as the State Library of NSW has recognised having purchased the collection. It has now been remounted in its entirety as a part of Sydney World Pride 2023. Pride's theme, Mana Nangamai Djuralli, means "Gather, Dream, Amplify" in Gadigal language. It is an especially apt theme for this exhibition.
Portraits and private parties​
More than 200 images, mostly portraits, are on display: celebrities such as Brett Whiteley, Kate Fitzpatrick, Jackie Weaver, Penelope Seidler, Robyn Nevin among many others alongside candid shots with titles such as "Men Fucking" and "Gary Injecting Junk".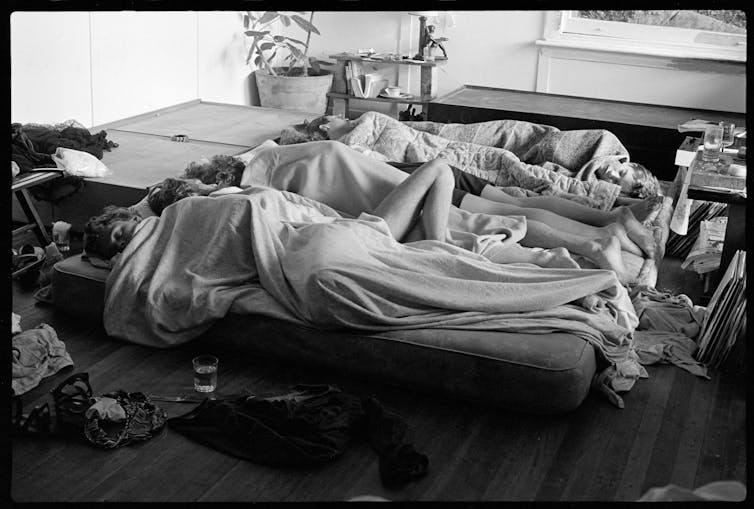 ​
Sleeping men. William Yang
Others with captions such as "Untitled no 1 (men sleeping)" reveal two naked young men spooning in post-coital slumber in the basement of a house party. Another image "
Doris Fish
with man in bondage gear" shows the eponymous drag queen Doris performing fellatio on the man – viewers get much more than the label suggests.
Many are shots taken at private parties such as those held by
Madame Lash
in her warehouse. These pictures feature guests tied to a rack surrounded by crowds of party-goers. It is a part of Sydney's recent cultural history that few people still alive have witnessed.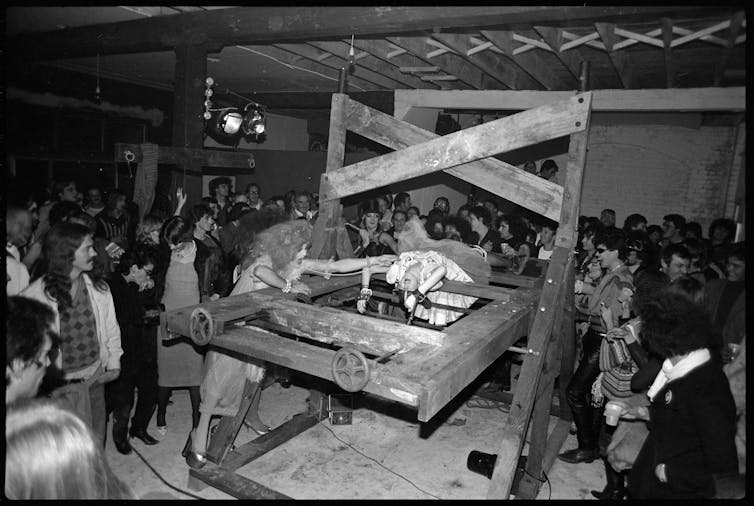 ​
Madam Lash's rack party, 1977. William Yang
Many of Yang's subjects were lost to the AIDS epidemic, powerfully captured in his photographs and performances in unforgettably moving works such as Sadness and Friends of Dorothy. That's what makes this an important exhibition for Sydney in this year of World Pride.
Gay liberation​
Yang's work also features in
The Party
currently at UNSW Galleries, another significant exhibition of Sydney gay visual culture for Sydney World Pride.
This covers the years beginning with the inaugural Mardi Gras in 1978, a protest march for gay rights that
became infamous for the brutality of the NSW police
, to now.
The changes could not be more stark. Mardi Gras is now and has been for some time (for those living under a rock) a celebration and affirmation of LGBTQI culture and identity with the NSW Police participating.
Yang refers to these as the years of "gay liberation" and is justly proud of his role in recording this extraordinary transition of gay life from illegality to recognition and celebration.
---
---
Open hearts and minds​
It was a treat to see him present the photographs to a packed house at a one-off recital at the State Library on February 10.
He has performed his quiet storytelling alongside his pictures since 1989 and was recently awarded a Life Time Achievement Award by the Sydney Theatre Critics Circle. The power of these simple shows, as Helena Grehan and I
wrote about them
some years ago, is that they open onto "vast as well as minute landscapes of grief, love, loss and friendship".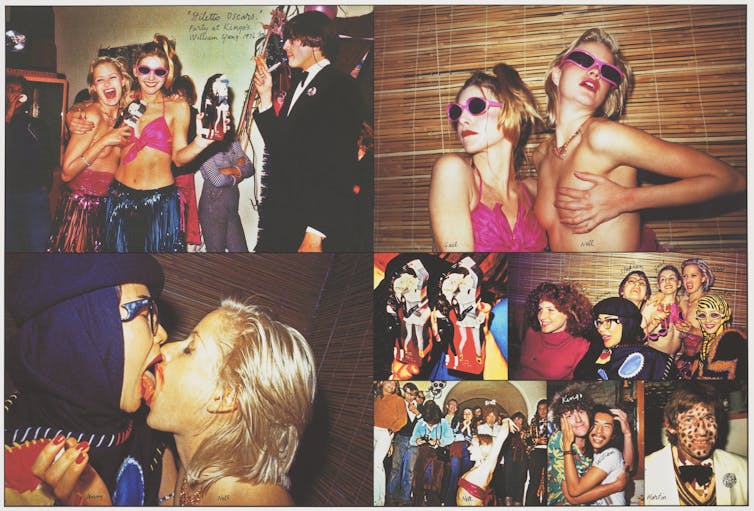 ​
'Stiletto Oscars' party at Kingo's (Peter Kingston), 1976. William Yang
In presenting Sydneyphiles, the slideshow, he evinced a new level of quiet defiance and a newly stated sense of purpose for his work. He expressed "no regrets or apologies" for the radical lifestyle he so eloquently captures and an assertiveness of the value of his work in making the gay and lesbian community of that time visible.
He offers a valuable reminder of a time when these gatherings had to be held in secret. His work stands as a contestation and a refusal of this – and a softly spoken demand that our societies, hearts and minds remain open.
Sydneyphiles is at State Library of NSW until June 4.
---
https://theconversation.com/illegal...tographer-william-yang-captured-it-all-199181
---