Power of newly launched Chinese Geo survey Satellites, China is new a very oil rich country. Want play any Trade War or Full Scale Economic War? Xijinping can bully Dotard pants down and Ass up any time.
http://news.sina.com.cn/c/2018-04-16/doc-ifzcyxmv5809156.shtml
中国这一地区连续发现5个"亿吨级"油气田
中国这一地区连续发现5个"亿吨级"油气田
0
  原标题:青海连续发现5个"亿吨级"油气田 油气勘探技术取得重大突破
  中青在线讯(吉海坚 中国青年报·中青在线记者 傅晓羚)记者从中国石油青海油田公司获悉,青海油田千余名科技工作者历经10个寒暑,突破地质认识禁区,攻克高原咸化湖盆4项油气地质勘探理论技术,开拓了8大重点勘探领域,连续发现5个"亿吨级"油气田,夯实了青海油田在"十三五"期间建成千万吨规模高原油气田的资源根基,提升了高原油田在中国石油西部重要能源战略接替区的地位。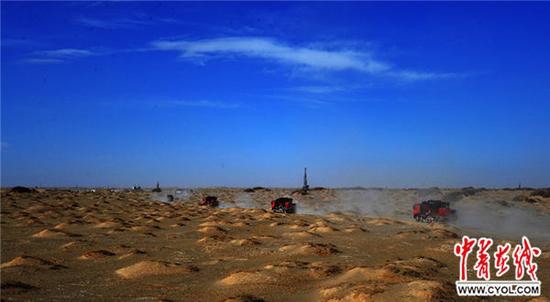 青海油田位于青藏高原北部,是世界上海拔最高、地质情况最复杂、地表条件最艰苦、工程技术保障最困难、油气储存条件最特殊的高原油田,油气勘探堪称世界级难题。
  1954年,柴达木盆地开始油气勘探。上世纪50--70年代,先后发现了冷湖、尕斯、涩北等一批油气田,建成了世界上海拔最高的油气生产基地,之后30年勘探持续低迷,收效甚微。2007年,中国石油站在保障国家能源安全的角度,设立柴达木盆地关键技术重大专项,针对咸化湖低丰度烃源岩能否规模成烃、盆地腹部是否发育规模储层、强烈改造区能否规模成藏、复杂山地如何获取地震精确成像等世界级难题和瓶颈技术,组成千余人产学研团队历经10年艰苦攻关。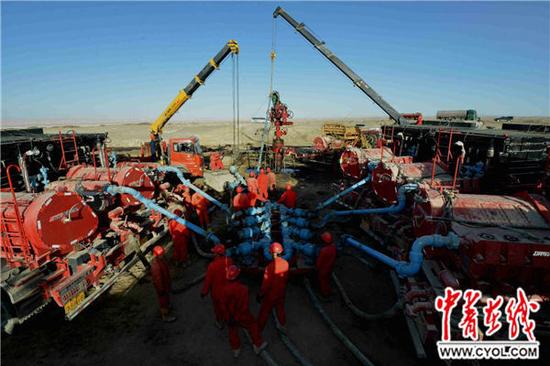 据青海油田公司副总地质师刘云田介绍,青藏高原咸化湖盆油气地质勘探理论技术创新与重大突破取得了4个方面的创新成果:第一,创新咸化湖盆"多成因类型多峰式"生烃模式,突破低丰度有机质难于规模生烃的传统认识,丰富和完善了陆相生烃理论,油气资源量从46.5亿吨增加到70.3亿吨;第二,创新咸化湖盆细粒岩和碳酸盐岩成储机制,拓展了有效勘探面积1.2万平方千米,勘探领域从局部拓展到整个盆地;第三,创新高原咸化湖盆四大不同类型的油气成藏模式,指导了五个亿吨级整装大油气田的突破,成为复杂构造区高效勘探的成功典范;第四,创新高原复杂山地高密度三维地震勘探技术,实现了精确地震成像,为"地震勘探禁区"油气获得重大突破发挥了决定性的作用,引领了复杂三地地震技术的发展。
  刘云田表示,油气地质理论和勘探技术取得重大突破,实现了柴达木盆地油气勘探从冷点变热点、难点变亮点和重点的巨大转变,破解了油气地质勘探领域"高原"和 "咸化"两大关键词背后的世界级难题,创造了柴达木盆地油气勘探的历史性突破。迄今,该理论成果已指导青海油田连续发现5个亿吨级油气田,新增探明油气储量4.6亿吨,油气产量从419万吨上升至738万吨。
  青海油田是青藏地区唯一的油气规模生产基地,油气重大发现和产量快速增长对满足和保障甘青藏地区的能源需求,经济发展、社会进步和国防、边疆建设具有特殊的战略意义。同时,天然气产量的提升和储量的新发现,改善了青、藏、甘、宁等地区的燃料结构,使1000多万居民受益,尤其是天然气清洁能源保护了青海三江源、祁连山以及青藏地区的自然资源和生态系统。
责任编辑:张义凌
Five "Billion-ton" oil and gas fields have been discovered continuously in this area of China
Five "Billion-ton" oil and gas fields have been discovered continuously in this area of China
0
Original title: Qinghai has consistently discovered five "100-million-ton" oil and gas fields
China Youth Online (Ji Haijian China Youth Daily and China Youth Online reporter Fu Xiaoling) The reporter learned from PetroChina Qinghai Oilfield Company that more than 1,000 scientists and technicians in Qinghai Oilfield had passed the cold and heat for 10 times, broke through the geological understanding of the restricted area, and overcame the plateau salt lake basin. 4 theoretical and technological explorations for oil and gas exploration, exploiting 8 key areas of exploration, and continuously discovering 5 "100 million tons" oil and gas fields, consolidating the foundation of resources for the construction of a 10 million ton-scale plateau oil and gas field in Qinghai Oilfield during the "13th Five-Year Plan" period. The position of the Plateau Oilfield in the important strategic area of energy replacement in the western part of China National Petroleum Corporation.
Located in the northern part of the Qinghai-Tibet Plateau, Qinghai Oilfield is a high-altitude oilfield with the highest altitude, the most complex geological conditions, the most difficult surface conditions, the most difficult engineering and technical support, and the most special oil and gas storage conditions. Oil and gas exploration is a world-class problem.
In 1954, oil and gas exploration began in the Qaidam Basin. In the 50s-70s of the last century, a group of oil and gas fields such as Cold Lake, Muse, and Sebei were discovered, and the highest oil and gas production base in the world was built. The exploration continued to be sluggish for 30 years, with little success. In 2007, from the perspective of safeguarding national energy security, China Petroleum Corporation established a key special technology project for the Qaidam Basin to determine whether the low-abundance hydrocarbon source rock in Salar Lake can be scaled up to hydrocarbons, whether the basin's abdomen is a development-scale reservoir, and strongly modified. Whether the area can be scaled up to Tibet or how the complex mountainous areas can acquire world-class difficulties and bottleneck technologies such as accurate imaging of earthquakes, the team of more than 1,000 people has been working hard for more than 10 years.
According to Liu Yuntian, deputy chief geologist of Qinghai Oilfield Company, theoretical innovations and major breakthroughs in the oil and gas geological exploration of the saline lake basin in the Qinghai-Tibet Plateau have yielded four innovations: First, innovation of the salt lake basin "multiple genesis type multimodal The hydrocarbon generation model, which breaks through the traditional understanding that low-abundance organic matter is difficult to scale hydrocarbon generation, has enriched and improved the theory of terrestrial hydrocarbon generation, increased the amount of oil and gas resources from 4.65 billion tons to 7.03 billion tons, and second, innovated salt lake basin fines. Rock and carbonate reservoirs have expanded the effective exploration area of 12,000 square kilometers, expanding the exploration area from the local to the entire basin; third, innovating the four major types of oil and gas accumulation models in the plateau and saline lake basins, guiding the The breakthrough of the five million-ton-class large-scale oil and gas fields has become a successful model for high-efficiency exploration in complex structural areas. Fourthly, the high-density 3D seismic exploration technology in the mountainous areas has been innovated to achieve accurate seismic imaging and is used to obtain oil and gas for "seismic exploration restricted zones". Major breakthroughs have played a decisive role, leading to the development of seismic technology in the three complex areas.
Liu Yuntian stated that major breakthroughs have been made in oil and gas geology theory and exploration technology, realizing a huge shift from cold spots to hot spots, hard spots, and highlights in oil and gas exploration in the Qaidam Basin, and breaking the "plateau" and "salinity" in the field of oil and gas geological exploration. The world-class difficulties behind the two key words have created a historic breakthrough in oil and gas exploration in the Qaidam Basin. So far, this theoretical result has guided the continuous discovery of a 500-million-ton oil and gas field in Qinghai Oilfield, with an additional 460 million tons of proven oil and gas reserves, and an increase in oil and gas production from 4.19 million tons to 7.38 million tons.
Qinghai Oilfield is the only large-scale production base for oil and gas in the Qinghai-Tibet region. Major oil and gas discoveries and rapid production growth have special strategic significance for meeting and safeguarding the energy needs of the Gansu and Qinghai-Tibet areas, economic development, social progress, and national defense and border construction. At the same time, the increase in natural gas production and new discoveries in reserves have improved the fuel structure in Qinghai, Tibet, Gansu, and Ningxia, and benefited more than 10 million residents. In particular, natural gas clean energy has protected Qinghai Sanjiangyuan, Qilianshan and Qinghai-Tibet regions. Natural resources and ecosystems.
Editor: Zhang Yiling