https://www.scmp.com/news/world/eur...ts-us-pressure-ban-huawei-germany-launches-5g
Angela Merkel resists US pressure to ban Huawei as Germany launches 5G auction
Chancellor says government will tighten network security requirements but not single out individual companies
Citing spying concerns, US has threatened to scale back information sharing with Berlin if it does not exclude hardware from Chinese vendor
92

German Chancellor Angela Merkel speaks during a question-and-answer session at the Global Solutions World Policy Forum in Berlin on Tuesday. Photo: Bloomberg/Krisztian Bocsi
Chancellor Angela Merkel signalled she is loath to cave in to US pressure to bar Huawei Technologies, saying she will not single out individual vendors as Germany toughens its security requirements for mobile networks.
"There are two things I don't believe in," Merkel said in an onstage discussion on Tuesday at the Global Solutions summit in Berlin. "First, to discuss these very sensitive security questions publicly, and second, to exclude a company simply because it's from a certain country.''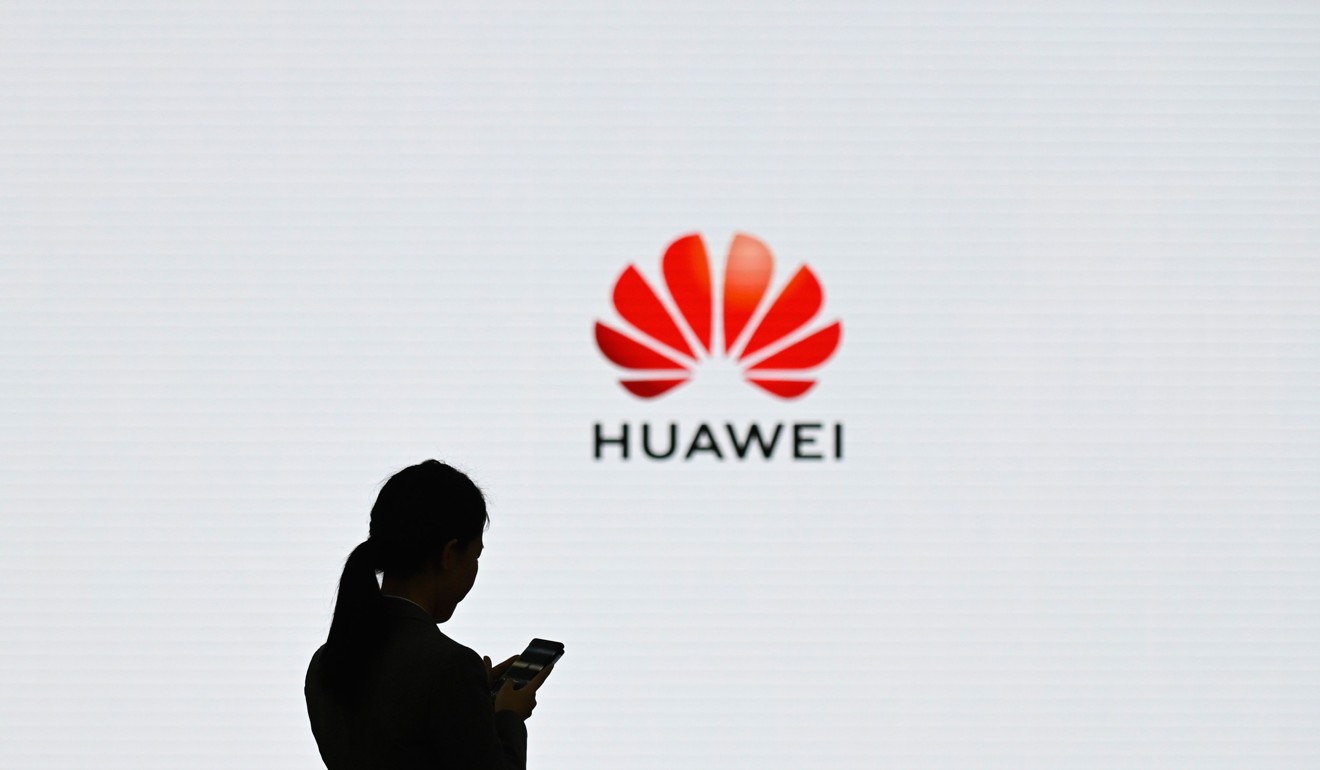 Huawei has denied allegations that its equipment could be used for espionage. Photo: AFP
Share:
The United States has warned it could scale back the sharing of sensitive information with Berlin if it does not exclude hardware made by Huawei from its 5G infrastructure, arguing that Chinese equipment could help Beijing spy on Western companies and governments.
European carriers, however, have warned governments that sidelining Huawei would delay fifth-generation networks by years. The Chinese telecoms giant, which has repeatedly denied US allegations that it could enable Chinese state-ordered spying, is deeply embedded in Germany's phone networks, so restrictions would be more disruptive than in some other countries.
Germany on Tuesday started selling 5G-ready airwaves to carriers including Deutsche Telekom, Vodafone Group and Telefonica. Huawei is not one of the bidders but provides the hopefuls with essential hardware such as antennas and routers.
American universities cutting ties to Huawei and Confucius Institute
SUBSCRIBE TO SCMP Today: Intl Edition
Get updates direct to your inbox
By registering for these newsletters you agree to our
T&C
and
Privacy Policy
The roll-out is critical as Europe's biggest economy tries to reduce its dependence on old-school engineering. The country lags behind the likes of Qatar, Albania and Moldova when it comes to mobile internet speeds, a handicap in the transition to a data-based economy. Merkel's government has promised to create a "world-class" digital infrastructure and end the notorious dead zones that dot the countryside.
Germany should not be naive when it comes to the security of its networks, Merkel said, adding that a joint European solution to the Huawei issue "would be desirable".
5G technology is harder to police, and that is why Germany is tightening requirements for companies that want to supply the technology – whether they are from China or elsewhere, Merkel said.
We will give everyone a chance, but shouldn't be naive; instead we see that there are very different laws in China German Chancellor Angela Merkel
"So far, lots of countries have used Huawei technology," she said at the conference. "That's why the federal government has not taken the approach of simply ruling out any contractor or stakeholder, but we have set standards for those bidding for 5G technology.
"We will also write these standards legally into our telecommunications laws … We will give everyone a chance, but shouldn't be naive; instead we see that there are very different laws in China."
"Of course we're in a systemic competition with China,'' Merkel said in a separate speech at the same event. "But the answer can't be that we fight those who are economically strong, we must stand up for fair, reciprocal rules and not give up on multilateralism.''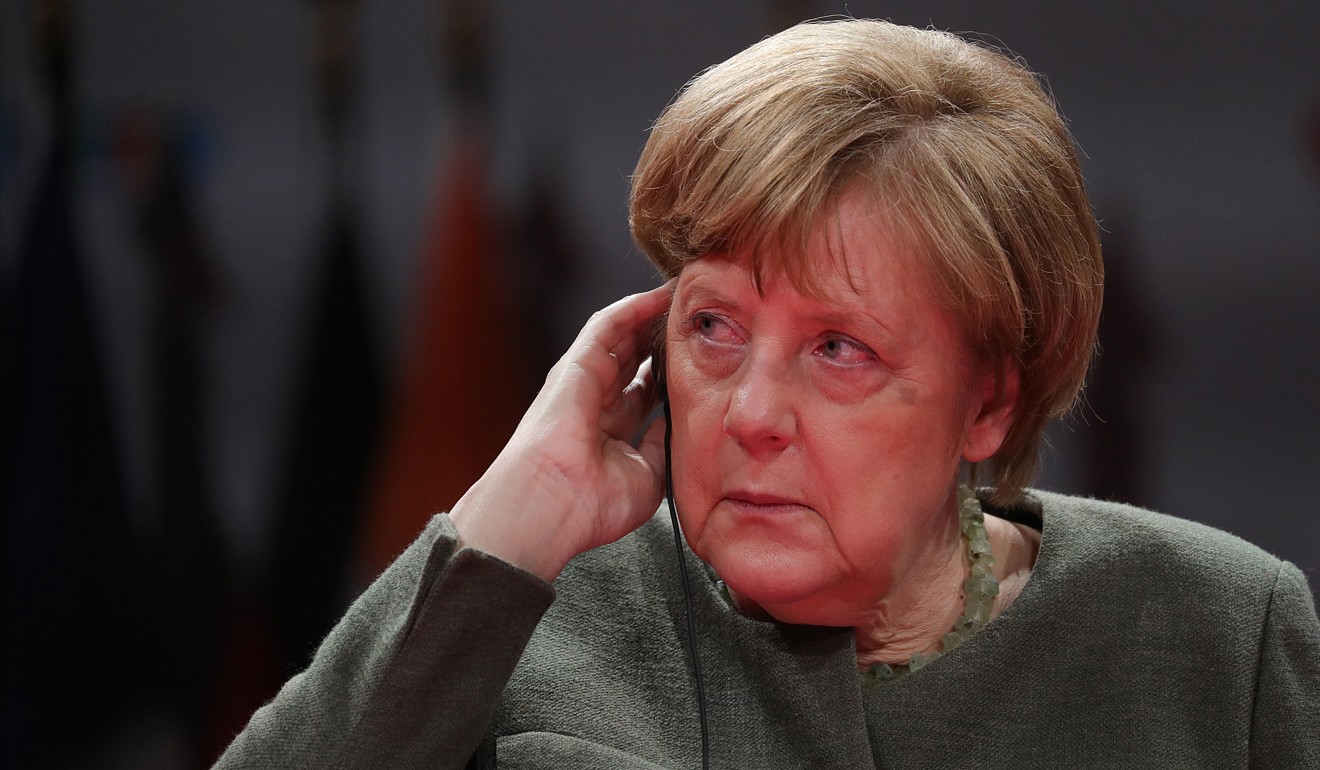 German Chancellor Angela Merkel listens during a question-and-answer session at the Global Solutions World Policy Forum in Berlin on Tuesday. Photo: Bloomberg/Krisztian Bocsi
Share:
Jochen Homann, chairman of the German Federal Network Agency (BNA), said excluding Huawei's equipment would present significant problems for the auction winners.
"Huawei is an important supplier, already present in our previous networks – it will be difficult to do without such companies and this is not at all what we want," Homann told German public broadcaster ARD.
The US has accused Beijing of using Huawei's 5G network gear as a Trojan horse, forcing operators to transmit data to the government, but Washington has not provided evidence to support its suspicions.
Huawei has strenuously denied allegations its equipment could be used for espionage, while Chinese Foreign Minister Wang Yi on Monday lashed out at what he called "abnormal, immoral" attacks on the Chinese firm.
China rejects US Huawei warnings amid drive to win over EU
US-led attempts to encourage other nations to ban Huawei equipment from their telecoms infrastructure suffered a setback when Merkel's government decided against imposing company-specific restrictions on the 5G auction.
With other nations across the EU also grappling with the same issue, Jyrki Katainen, vice-president of the European Commission, said Brussels would make recommendations on security in digital networks.
But he told business newspaper
Handelsblatt
that it was "unlikely that we will name one or two companies that should be excluded".
According to media reports, the US ambassador to Germany last week warned in a letter to Germany's economy minister that Washington could review intelligence cooperation unless Berlin agreed to a Huawei ban.
"If it also is inside of [Germany's] defence communications, then we're not going to communicate with them US General Curtis Scaparrotti
The threat escalated when Nato's Supreme Allied Commander in Europe, US General Curtis Scaparrotti, warned Germany that Nato forces would cut communications if Berlin were to work with Huawei.
Scaparrotti said the US military was concerned about the risk of Germany's telecommunications being compromised as "particularly with 5G, the bandwidth capability and ability to pull data is incredible".
"If it also is inside of their defence communications, then we're not going to communicate with them. And for the military that would be a problem."
Germany's Federal Intelligence Service (BND) shares some of the US fears, according to a report.
BND security experts have asked the government to take China's overall strategy into account, including a law compelling cooperation in security matters, according to
Der Spiegel
magazine.
http://www.sohu.com/a/308176680_114...ews.6.15553714434464JI3Laq&_f=index_milnews_5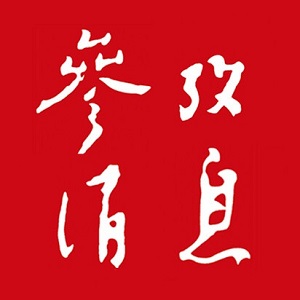 参考消息
5万
文章
102亿
总阅读
查看TA的文章>
0
无视美国警告!德国明确表态华为可参与德国5G建设
2019-04-16 07:31
参考消息网4月15日报道
境外媒体称,尽管美国施压,但德国电信监管机构近日表示,德国建设5G网络不会将华为排除在外,这是德国迄今最明确的表态。
据台湾联合新闻网4月15日报道,德国联邦网络局局长约亨·霍曼在接受《金融时报》采访时表示:"德国联邦网络局的立场是,包括华为在内,没有任何设备供应商应该或者可以被特别排除在外。"
霍曼还指出:"如果华为满足所有要求,就可以参与5G网络的开展。"
报道称,美国一再威胁欧洲各国禁止其5G网络中使用华为的设备。上个月,美国驻柏林大使曾致函德国经济部长说,如果德国允许华为或其他中国供应商参与5G计划,意味着美国与德国安全机构的合作将无法维持当前的水准。
另据英国《金融时报》网站4月15日报道,德国电信监管机构发出迄今最明确的信号,表明华为不会被排除在德国5G网络之外,尽管美国以所谓"安全原因"对德国猛烈施压,要求其封杀这家中国供应商。
德国联邦网络局局长约亨·霍曼表示:"德国联邦网络局尚未获得对华为不利的任何具体迹象。我们也不知道德国的其他任何机构收到过任何可靠迹象。"
霍曼表示,禁止华为参与5G网络建设将给德国电信及其竞争对手带来麻烦。
霍曼指出:"无论如何,这些运营商已在其系统中使用华为的技术。另外,华为在这一领域拥有大量专利。"
霍曼强调:"如果华为被排除在该市场之外,将延误数字网络的建设。"
返回搜狐,查看更多
https://www.cnbc.com/2019/04/15/germany-reportedly-says-huawei-can-stay-in-5g-race.html
Germany reportedly won't exclude Huawei 5G technology — if the company follows the rules
Germany has no plans to stop Chinese telecom giant Huawei from participating in the build up of ultra-high speed internet, known as 5G, in the country if it complies with security requirements.
Jochen Homann, president of the country's telecommunications regulator, told the FT newspaper that no equipment suppliers, including Huawei, "should, or may, be specifically excluded."
Homann told the FT that his agency has yet to see evidence that Huawei poses a security risk.
Saheli Roy Choudhury
Published 17 Hours Ago Updated 15 Hours Ago CNBC.com
Elizabeth Schulze | CNBC
One of Huawei's booths at MWC Barcelona 2019.
Germany
has no plans to stop Chinese telecommunications giant Huawei from participating in build up of ultra-high speed internet, known as 5G, in the country if it complies with all the security requirements,
the Financial Times reported on Sunday
.
The president of the Bundesnetzagentur, the country's telecommunications regulator, told the FT that no equipment suppliers, including Huawei, "should, or may, be specifically excluded."
Jochen Homann told the newspaper that his agency has yet to see evidence that Huawei poses a security risk. He added that if Huawei meets the security requirements imposed by the regulator, it can take part in the 5G network roll-out.
Huawei is up against mounting worries that its technology will enable Chinese espionage through those high-speed mobile networks. The
United States
banned Huawei from selling 5G networking equipment to U.S. firms. Other countries have followed suit,
including Australia, Japan and New Zealand
. Huawei claims the security concerns are unfounded.
The
European Union
so far has shunned U.S. calls to ban Huawei. The
United Kingdom, a close ally of Washington, acknowledged 'significant' security risks posed by Huawei
but has, so far, not moved to ban the firm outright.
In an interview with CNBC's Arjun Kharpal on Saturday, Huawei CEO Ren Zhengfei said his company will comply with European cybersecurity standards and the General Data Protection Regulation (GDPR) laws that govern the European Union.
"Germany proposed the establishment of a unified global convention that would bar all equipment vendors from installing backdoors, and require them to sign a no-spy agreement," he said, referring to a potential
"no spy" deal between Berlin and Beijing
.

Huawei CEO: We support Germany's proposed 'no-spy agreement' 15 Hours Ago | 01:13

In 5G networks, the emphasis is more on software instead of hardware. That means an equipment maker may be able to install lines of code, called "backdoors," that let it access what's going on inside the network — such as monitoring data transfers, tracking locations of cell phone users, or eavesdropping on conversations.
"We endorse unified global standards that make installing backdoors a crime ... we want to sign such an agreement because we think it's the right thing to do," Ren said.
Ren added that Huawei will invest more than $100 billion in research and development over the next five years: "We will build the simplest networks, ensure cyber security, and protect user privacy."
The Trump administration, meanwhile, warned the German government it would limit intelligence-sharing if Berlin allows Huawei to build its 5G infrastructure,
the Wall Street Journal reported last month
.
Read more about the German regulator's stance on Huawei from the Financial Times here
.
—
CNBC's Arjun Kharpal contributed to this report.
https://www.straitstimes.com/world/...-out-huawei-ban-in-5g-expansion-official-says
German government rules out Huawei ban in 5G expansion, official says
Huawei has come under scrutiny by US allies concerned its equipment could be used by Chinese intelligence.PHOTO: REUTERS
Published
Feb 8, 2019, 11:40 am SGT
Facebook
Twitter
Email
BERLIN (BLOOMBERG) - German Chancellor Angela Merkel's government has ruled out an outright ban targeting Chinese equipment supplier Huawei Technologies Co as the country moves towards building its ultra-fast fifth-generation networks, according to a government official.
Cabinet members from Dr Merkel's administration met on Wednesday (Feb 6) in Berlin to discuss the prospect of restricting Huawei equipment from the new 5G network.
While they continue to work towards a final decision, the ministers concluded that singling out Huawei from a list of suppliers was not legally viable, the official said on Thursday on condition of anonymity in accordance with government protocol.
Economy Minister Peter Altmaier has signalled that any restrictions tied to Germany's shift to the crucial next-generation technology won't involve targeting specific companies, but rather subjecting all potential service providers to stringent security standards.
Huawei has come
under scrutiny by United States allies
concerned its equipment could be used by Chinese intelligence.
"I don't think this is about ruling out or not ruling out individual service providers," Mr Altmaier said last week.
The Interior Ministry will formulate a list of security criteria to determine the level of scrutiny levelled on companies, which various ministries with competing interests will then have a chance to weigh in on. That catalog will be completed in the next couple of weeks, the official said.
Related Story
It's Huawei versus the US government at world's biggest wireless event
Related Story
Huawei and the 5G revolution: Will crackdown hit 5G roll-out?
Auctioning for the country's 5G network is expected to begin in March.
Telecommunication companies have warned about costs that would arise if Huawei were cut out of supplying 5G equipment.
Germany's Deutsche Telekom AG has warned that Europe would fall behind the US and China in 5G with such a move, according to people familiar with an internal briefing paper from the company.
"Irrespective of whichever telecommunications company receives a tender, they will in the end have to prove that they fulfil these security standards," Mr Altmaier said last month.
The decision against the full ban was reported earlier by Germany's Handelsblatt business newspaper.
https://www.theregister.co.uk/2019/02/19/germany_huawei_5g_security/
Germany tells America to verpissen off over Huawei 5G cyber-Sicherheitsbedenken
Europeans can't find any evidence of Chinese spying
By
Kieren McCarthy in San Francisco
19 Feb 2019 at 21:26
66
SHARE ▼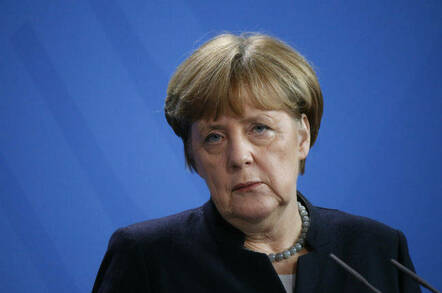 German is expected to snub US pressure to cut Huawei out of its next-generation 5G networks, rejecting claims that the Chinese manufacturer is a security risk.
According to German media reports, a weekend meeting of the German cabinet dug into the issue and effectively rejected America efforts to impose a global ban on the company. The meeting considered a report by its own security services that said it has failed to find any evidence of spying.
That report reflects a early indication by UK security services that they have been unable to find any evidence that Huawei is installing backdoors in its products, something that is credible given that GCHQ has
access
to Huawei's source code. A final report is expected this spring.
Coinciding with the German crunch talks, Huawei's previously quiet management has been giving pointed interviews with German and British news publications to push their case.
The company's founder Ren Zhengfei – whose daughter was
arrested
in Canada earlier this year at the request of American authorities –
told the BBC
that there was "no way the US can crush" the company, and complained that his daughter's arrest was political.
Meanwhile, the head of Huawei's German arm, Dennis Zuo, spoke to Handelsblatt and
actively rejected
claims of espionage. "The security of networks is our top priority," Zuo said, stating that the Chinese government "does not hold a stake in Huawei" and stays out of its factories. He said the company will be open and transparent when it comes to mobile network security.
Diplomatic silence
Although the German government meeting ultimately decided to take a diplomatic approach – neither rejecting nor approving Huawei – a clear indication that they are skeptical of American security claims came when German Data Protection Commissioner Ulrich Kelber pointedly noted in an interview with Handelsblatt that "the US itself once made sure that backdoor doors were built into Cisco hardware."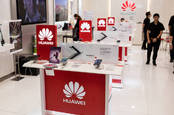 Uncle Sam: You can buy technology the easy way, or the Huawei
READ MORE
Kelber added that he found it "very interesting, that just the Americans warn against Huawei." The German foreign office is reportedly more convinced than other departments that Huawei presents a possible security threat. Earlier this month, German Chancellor Angela Merkel
took a middle line
on the issue, refusing to say she would ban Huawei but noting that it would not be acceptable for the company to share data with the Chinese government.
The anti-Huawei rhetoric emanating from Washington DC, which has been unquestioningly accepted within the United States, has been raising eyebrows for nearly a year.
American telcos have aggressively pushed the questionable concept of a "race to 5G" and persuaded lawmakers of its importance by using fear of Chinese dominance as a counterpoint. Currently American and European companies dominate the mobile market and possess most of the patents on emerging 5G technology but China has been making significant headway and some fear that as the 5G standard is further developed, Chinese companies will overtake US corporations and so reap the next-generation windfall.
At stake are billions of dollars and a controlling stake in the mobile networks' future. But rather than focus all their efforts on out-innovating Chinese firms, significant energy by US companies has been put into scaremongering, painting Chinese companies and particularly Huawei as a security risk.
Also at play is the fact that Huawei is able to make and sell its equivalent products for significantly less than American rivals thanks to lower labor costs.
Lacking evidence
As security claims have been dug into and no evidence has emerged, however, the American argument has fallen back on a 2017 law passed by the Chinese government that requires all Chinese companies to cooperate with its intelligence services if requested.
The Trump Administrations has seized on that law – despite the United States having similar arrangements with many technology companies – with numerous officials and most recently vice president Mike Pence
explicitly warning
European countries that allowing Huawei into their networks is to grant an open door to the Chinese government.
The rhetoric has got so blatant a Chinese foreign ministry spokesperson used concerns over President Trump's use of an insecure personal mobile phone to make calls to
cheekily argue
that if the US government is "really very worried about Apple phones being bugged, then they can change to using Huawei."
There is, of course, a risk with Huawei. As there is with American equipment. And Europeans are caught in the middle wishing to upset neither party, both of whom are important trade partners.
The solution that appears to be emerging in both the UK and Germany is one of cautious diversity, where special attention is given to the most important networks that require high levels of security and some degree of "technological autonomy" is introduced to the system to stop the country from becoming overly reliant on any particular company, American or Chinese. Japan has already rejected US calls for a Huawei ban.
There are several European companies that can also provide 5G equipment and European governments are likely to be more comfortable having one of them build out the most sensitive networks.
Remember Snowden?
The irony of course is that fears of undetectable state-sponsored spying across a network are credible only because the United States government managed to achieve exactly that through its National Security Agency (NSA).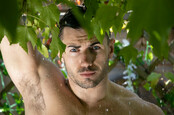 Roses are red, so is ketchup, 'naked' Huawei tells its critics to belt up
READ MORE
In 2014, leaked NSA documents revealed, among many other things, that the American spy agency straight up
intercepted
and
bugged
Cisco gear on its way to buyers, to spy on network traffic. The snoops also
exploited
remotely accessible vulnerabilities in Cisco firewalls, and used a combination of secret laws and clandestine operations to tap into internet and mobile networks across the globe. Oh, and President Obama was forced to
personally assure
Chancellor Merkel that the NSA was not tapping her mobile phone, using language that appeared to confirm that it had been doing exactly that for years.
Since the NSA did that to homegrown American tech giant Cisco, no wonder Uncle Sam is paranoid about China's spies and Huawei.
Although Germany would rather stay out the argument by refusing to take a step in one direction or another with regards to the Chinese tech goliath, the Euro nation is going to hit a difficult deadline next month when it is due to open up auctions for 5G airspace.
If it is going to block Huawei in its networks, Germany would likely need to announce such a move before the auction begins in order to remove uncertainty for bidders. If it doesn't say anything, it will be taken as an implicit acknowledgement that Huawei equipment will be accepted in German 5G networks. ®
Tips and corrections
https://www.cnbc.com/2019/03/21/future-of-5g-us-allies-defy-washingtons-please-to-ban-huawei.html
US allies defy Trump administration's plea to ban Huawei from 5G networks
Germany's 5G spectrum auction began on Tuesday and the government has not excluded Huawei from providing networking equipment to the country's carriers.
Other countries including Thailand and the U.K. have also not banned Huawei.
AT&T CEO Randall Stephenson claimed that Huawei is making it tough for European carriers to change equipment providers because the Chinese firm is an important part of existing 4G networks.
Arjun Kharpal
|
@ArjunKharpal
Published 2:25 AM ET Thu, 21 March 2019 CNBC.com
Qilai Shen | Bloomberg | Getty Images
An attendee uses a mobile phone while standing in front of the Huawei Technologies Co. booth at the Mobile World Congress Shanghai in Shanghai, China, on Thursday, June 28, 2018. The exhibition runs through June 29.
Europe and the
U.S.
are clashing over Huawei's role in the future of 5G.
While Donald Trump's administration has tried to
pressure allied countries
, including those in Europe, to ban the Chinese firm from being included in the rollout of the next generation of mobile networking technologies, nations including the
U.K.
and
Germany
aren't listening.
Germany's 5G spectrum auction
began on Tuesday
— a process in which carriers bid for certain radio frequencies in order to provide the new version of high-speed mobile internet.
The U.S. alleges that Huawei's networking equipment could be used for espionage by the Chinese government. Huawei has
repeatedly denied that it poses any risk
and said it would never allow Beijing to get its hands on customer data.
Experts are skeptical
, however, about Huawei's assurances because Chinese national security laws appear to compel companies operating in the country to comply with all government requests for such info.
What's at stake is control over what experts describe as one of the most important technologies in recent times. 5G is not just about making mobile internet faster: It will underpin other technology from driverless cars to so-called smart cities. The
U.S. wants to be a leading player
— and so does China.
Despite Washington's protests, Germany is
not excluding Huawei
from becoming part of its national 5G infrastructure. German Chancellor
Angela Merkel
said earlier this month that the country will
define its own security standards
.
Each morning, the "Beyond the Valley" newsletter brings you all the latest from the vast, dynamic world of tech – outside the Silicon Valley.
Subscribe:
By signing up for newsletters, you are agreeing to our Terms of Use and Privacy Policy.
But its not just Germany that is defying the U.S.
Italy's
government has said that it won't ban Huawei from its telecommunications industry, saying there is no proof of any security threat.
And in the United Kingdom, intelligence officials said that any risks posed by Huawei can be mitigated, according to
an FT report
in February. Even individual carriers have expressed their concern over excluding Huawei from the 5G rollout. U.K.-headquartered carrier
Vodafone
said banning Huawei
could cost it millions of pounds
and slow the rollout of 5G.
Experts say that while the American rollout of 5G would not be affected by a Huawei ban,
Europe could suffer
. Nikhil Batra, senior telecommunications research manager at IDC said European carriers' businesses have struggled compared to those in the U.S., so they want the cheapest possible deal for 5G equipment — something that Huawei can provide.
"When you look at the industry as small as network equipment providers, excluding Huawei will have a big impact on the industry. If I am going from three major vendors to two major vendors, competition decreases, prices will increase as a result. A lot of countries, including specific telcos, are looking at Huawei as a better-cost option," Batra told CNBC on Thursday.
The two other major players for Europe are Nokia and Ericsson.
"Traditionally, Huawei has been playing a lot on the cost in terms of being competitive versus the other two major players," Batra added.
European countries, Batra said, have not seen hard evidence regarding the allegations made by the U.S. and that is one reason why they are not following America's lead. Critically, the U.S. argument is that Huawei's technology could allow for spying — not specifically that the company has already performed intelligence gathering for Beijing.
And it's not just European countries butting heads with the U.S.
Thailand
, a U.S. ally in Asia,
launched a 5G test bed
with Huawei in February.
India
, meanwhile, is looking for a way to exclude Huawei from some parts of its 5G infrastructure, but it is not seeking an entire ban, according to a report by the
Nikkei Asian Review
earlier this month.

What is 5G? 1:07 PM ET Thu, 21 March 2019 | 05:03

But the U.S. is not budging on its stance against Huawei and the country's networks are backing it.
AT&T
CEO Randall Stephenson claimed on Wednesday that Huawei is making it tough for European carriers to drop Huawei as their supplier because the company is an important part of their existing 4G networks.
"If you have deployed Huawei as your 4G network, Huawei is not allowing interoperability to 5G — meaning if you are 4G, you are stuck with Huawei for 5G,"
Stephenson said
.
The AT&T chief said the U.S. government should better-explain its issue with Huawei. The biggest risk is not that the Chinese government might listen to conversations or mine data, it's that 5G will be such a critical infrastructure and governments should be cautious about who the vendors are, he said.
"If that much of infrastructure will be attached to this kind of technology, do we want to be cautious about who is the underlying company behind that technology? We damn well better be," Stephenson said.
Huawei declined to comment on Stephenson's remarks when contacted by CNBC.

Arjun Kharpal
https://www.npr.org/2019/03/20/7048...many-refuses-to-exclude-huaweis-5g-technology
Despite U.S. Pressure, Germany Refuses To Exclude Huawei's 5G Technology
4:08
March 20, 20197:31 AM ET
Joanna Kakissis
Instagram
Facebook
Twitter
The German headquarters of Chinese telecommunications giant Huawei in Duesseldorf, Germany. The U.S. says it may stop sharing intelligence with Germany if it adopts Huawei's 5G technology.
Wolfgang Rattay/Reuters
The race to build the next generation of super-fast mobile-data networks has begun in Germany, which started auctioning off its spectrum licenses for 5G on Tuesday.
But this highly technical event has become the center of a geopolitical storm between the U.S. and China, with Europe caught in the middle.
The Trump administration insists that Chinese firm Huawei, which makes 5G technology, could hand over data to the Chinese government. The U.S. has warned European allies, including Germany, Hungary and Poland, to ban Huawei from its 5G network or
risk losing access to intelligence-sharing
.
Business
U.S. Warns Germany: Using Huawei Could Crimp Intelligence-Sharing Between Agencies
Germany has refused to ban any company, despite pressure from the U.S. Instead, Chancellor Angela Merkel reiterated that her country would instead tighten security rules. "Our approach is not to simply exclude one company or one actor," she told a conference in Berlin on Tuesday, "but rather we have requirements of the competitors for this 5G technology."
Germany already has plenty of specialists who can monitor the current version of 5G software for security bugs, says Jan Bindig, a data security expert and director of Bindig Media in Leipzig.
"But you never know what happens in the future," he says. "Every technology is software-based. So if there's an update, you can change the whole concept. ... So it's about [having] a plan on how to ensure the whole network."
World
How Canada Gets Squeezed Between China And The U.S.
Huawei
strongly denies
U.S. charges that it spies and is too cozy with the Chinese government. The company is working hard to win Germany's trust. It even opened a lab in Bonn where security officials can check its products.
"The idea of this lab is that the responsible IT security authority of Germany but also other interested parties like independent auditors or our customers could go to that lab," says Huawei Germany spokesman Patrick Berger, "and, for example, verify our source codes and see that there are no malicious things in our codes."
But policymakers and analysts in Germany acknowledge that this debate isn't just about network security. It's a geopolitical confrontation between two superpowers with strong ties to the European Union.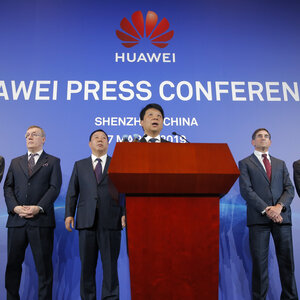 Business
Huawei Sues U.S. After Congress Bans Government Purchase Of Its Equipment
"When we see this confrontation, it's important for states in Europe to avoid being forced to take sides in this kind of conflict the way it's structured now, by these two superpowers," says Daniel Voelsen, a researcher at the the German Institute for International and Security Affairs in Berlin.
"Instead, Europe should focus on what Europe's own interests are here, especially in terms of national security but also economically," he says. "And then on the basis of that assessment Europe should shape its relationships with China and the U.S. in ways that serve our European interests."
And it's not unusual for governments to spy, says Frank Pieke, director of the Mercator Institute for China Studies in Berlin. "It's done by the American government, it's done by the British government, so that the Chinese
can
do this and
might
do this is also in and of itself not an indictment of China or an indictment of Huawei," he says.
Technology
Coming To A City Near You, 5G. Fastest Wireless Yet Will Bring New Services
But, he adds, "in Western democracies the work of a security apparatus is in principle subject to the rule of law and under control of the democratic political system. And these guarantees you don't have in China."
Pieke says he sympathizes with what the U.S. is saying about its concerns with Huawei. But, like others in Germany, he's displeased about the way it's being said.
"They say basically, 'If you're not with us, you're against us,' which is an age-old trick of course in the book of escalation," Pieke says. "It's an indication that the current U.S. administration is absolutely not interested in any form of discussion or dialogue. They basically want to ram their ideas and their assessments down the throats of everybody else in Europe."
World
Berlin Is A Tech Hub, So Why Are Germany's Internet Speeds So Slow?
Meanwhile, Germany continues to push on with its 5G auction and not only because it wants to improve its
famously slow data speed
.
BMW and other carmakers want to use 5G's much faster data speeds to operate self-driving cars.
At the BMW Museum in Munich, a video shows a driverless car dropping off a passenger in front of a building. "I will be back here and pick you up at 11," the car tells him.
"If you go to a meeting, you go with your car, you leave the car in front of the office," says BMW tour guide Jan Opalka, explaining the video. "And the car is going, you can see it now ... [it's] driving around the block and it's coming back [on] time."
World
Huawei Founder Denies His Firm Spies For China
Driverless cars need a super-fast network to communicate with traffic lights, with each other and with sensors that alert them to jaywalkers.
Peter Beyer, a member of Merkel's cabinet who is in charge of transatlantic relations, brought up self-driving cars in a statement intended to placate the U.S.
He said the U.S. was bringing up "justified doubts" about the Chinese but added: "It is self-evident that we will reach all decisions independently and responsibly in line with our interests, also vis-a-vis our partners."