https://www.rt.com/usa/456834-columbine-threat-woman-dead/
Teen suspected of planning Columbine-style massacre dead - FBI
Published time: 17 Apr, 2019 17:14 Edited time: 17 Apr, 2019 17:40
Get short URL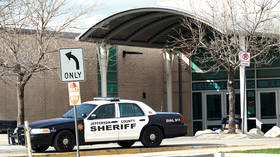 Police car out side Columbine High School @ Reuters
The woman wanted by the FBI in connection with threats that put several Denver-area schools on lockdown on Tuesday was found deceased, the FBI has said.
On Tuesday, the FBI launched a massive manhunt for 18-year-old Sol Pais, who, authorities said, had an
"infatuation
" with the Columbine high school massacre, the 20th anniversary of which occurs this week.
We can confirm that Sol Pais is deceased. We are grateful to everyone who submitted tips and to all our law enforcement partners for their efforts in keeping our community safe.
— FBI Denver (@FBIDenver)
April 17, 2019
​
Pais was on the run after making threats and comments about the infamous 1999 Columbine shooting and was believed to be fascinated with the perpetrators. The woman was not thought to be threatening any school specifically, but authorities believed she posed a credible threat.
Also on rt.com 'Armed & extremely dangerous': 20 US schools on lockdown as FBI hunt for 'Columbine-infatuated' teen
Authorities believed that Pais had flown from Miami to Denver on Tuesday with plans to carry out her own Columbine-style attack. She immediately purchased a gun and ammunition when she arrived in Denver, they said.
As many as 30 armed officers including SWAT team were searching an area in the Arapaho National Forest as part of the search on Wednesday morning. One woman, who was hiking in the area, told CBS4 that she was told to leave the area because
"a naked woman matching the description with a gun was spotted in the area running through the woods."
The 18 year-old was reportedly found near the Echo Lake Lodge at the base of Mount Evans in Clear Creek County, but it is not yet clear whether police killed her during an altercation or whether she was found dead at that location.
Think your friends would be interested? Share this story!
https://www.nytimes.com/2019/04/17/us/sol-pais-columbine.html
Who is Sol Pais, the Woman Sought in Colorado?
The authorities say Sol Pais flew to Denver on Monday and then purchased a shotgun and ammunition.CreditJefferson County Sheriff's Office, via Associated Press
Image
The authorities say Sol Pais flew to Denver on Monday and then purchased a shotgun and ammunition.CreditCreditJefferson County Sheriff's Office, via Associated Press
By The New York Times
Here is what is known so far about Sol Pais, the subject of a sweeping manhunt in Colorado, where dozens of schools were closed on Wednesday as a precaution.
• Ms. Pais is 18 years old and resides with her parents in Surfside, Fla.
• She is described as 5 feet 5 inches tall, with brown hair.
• She is a student at Miami Beach Senior High School; she previously attended a primary school in Bay Harbor Islands, Fla.
• Ms. Pais's parents reported her missing on Monday, saying they had not seen her since Sunday.
• The authorities say she flew to Denver on Monday and then purchased a shotgun and ammunition.
• She was last seen wearing a black T-shirt, camouflage pants and black boots.
• A man at her home in Florida who identified himself as her father told
The Miami Herald
on Tuesday, "I think maybe she's got a mental problem."
• The authorities in Colorado say they believe her to be "infatuated" with the mass shooting at Columbine High School in April 1999. They consider her to be armed and "extremely dangerous."
https://www.thedenverchannel.com/ne...f-mt-evans-ending-massive-manhunt-sources-say
News
Local News
Sol Pais found dead by self-inflicted gunshot wound near base of Mt. Evans, ending massive manhunt
Posted: 10:44 AM, Apr 17, 2019
Updated: 2019-04-17 18:00:28Z
By:
Stephanie Butzer
JEFFERSON COUNTY, Colo. — After a massive manhunt along the Front Range and foothills west of Denver, Sol Pais was found dead by a self-inflicted gunshot wound Wednesday morning near the base of Mt. Evans, according to multiple high-ranking sources.
The
18-year-old woman from Surfside, Fla.
had been wanted by authorities since Tuesday morning after allegedly making "credible" threats toward schools in the Denver metro area. Multiple sources told Denver7 Wednesday morning that she had been found dead around the base of Mt. Evans. Two high-ranking sources told Denver7's Jace Larson that she took her own life with a self-inflicted gunshot wound. The FBI tweeted shortly afterward that there was no longer a threat to the community.
We are expecting to learn more at a 11:30 a.m. press conference with Jefferson County Public Schools.
Pais traveled to Colorado on Monday and arrived at Denver International Airport later that day. She went to a gun store and purchased a shotgun and ammunition, according to the FBI. Sources close to the investigation told Denver7 that she legally purchased the shotgun in Littleton. The woman is "infatuated" with the Columbine school shooting, authorities said. She was last seen in the Foothills of Jefferson County on Monday, but authorities did not name her exact location.
Jefferson County Sheriff's Office placed several schools on lockout Tuesday afternoon after the sheriff's office identified what appeared to be
a "credible threat,"
though the details of the threat were not clear. The sheriff's office said Pais was connected to the threat and was considered armed and dangerous.
The ABC Station in Miami reported that a man who said he was her father told news crews that he last saw his daughter Sunday and the situation has "been a nightmare" since then.
About
150 schools and districts closed
Wednesday as a precaution.
At a press conference Wednesday morning, Jefferson County Public Schools and the sheriff's office said they are focusing on getting students back into school Thursday and ensuring upcoming Columbine anniversary events are carried out in a safe manner. Schools Thursday will run as normal, but will have extra security, said JeffCo Public Schools Superintendent Jason Glass.
LIVE STREAM
https://www.youtube.com/watch?v=D1Rn8RWwnbg