His head is wanted for hanging on Great Wall Gate.
William Lai
Premier of the Republic of China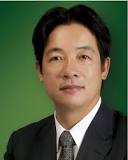 Lai Ching‑te, also known by his English name William Lai, is a Taiwanese politician and the incumbent Premier of the Republic of China. He took office on 8 September 2017.
Wikipedia
Born
: 6 October 1959 (age 58 years),
Wanli District, New Taipei, New Taipei City, Taiwan
Spouse
:
Wu Mei-ju
(m. 1986)
Party
:
Democratic Progressive Party
Education
:
National Taiwan University
,
MORE
Children
:
Lai Ting-yu
Parents
:
Lai Chao-chin
,
Lai Tung-hao
Profiles
Facebook
https://www.rfa.org/cantonese/news/military-04162018092504.html
国台办点名赖清德 周三演习是针对「台独」
2018-04-16
00:00
/
00:00
中国解放军公布周三(18日)在台湾海峡举行军事演习,网上流传福建沿海城市,连日来有大规模军事调动的片段。国台办主任刘结一周一(16日)点名批评台湾行政院长赖清德,指他就是「台独」份子,而演习原因就是针对「台独」。但台湾国防部就指大陆是衡常的军事演习,否认具针对性。(杨默 报道)
解放军周三于台海实弹演习,网上流传多条被指是福建沿海城市大规模的军事调动的片段,包括有大批装甲车及军车穿梭福州市街头,疑是开赴前往进行演习的泉州市沿海一带。
据称是福州网民拍摄的短片,大量配有大炮的军车源源不绝驶过,短片流传后引发网民热议,有网民指,该些短片摄于上星期。本台曾致电福州查询,多名市民则表示没有见过。
大陆国台办主任刘结一周一(16日)在出席公开活动后,回应记者询问时,再指赖清德是一个台独,而对于周三(18日)在台湾海峡、福建沿海举行的实弹军事演习,是否有警告「台独」的意味,刘结一就承认军演是针对台独,目的是为了捍卫主权和领土完整的一次行动,又说大陆的立场是非常明确,有足够的意志信心和能力,阻止任何企图分裂的言论和行为。
台湾方面,也在周一对事件作回应。台湾国安局长彭胜竹被问到此次演习是否与赖清德的「台独工作者」说法有关时,他就对记者称,此事看起来「应该是有针对性」,但随后备询时,又改口表示「没有针对性」,他又说,就解放军今次台海演习的规模来看,台方评估为例行性演练。
彭胜竹又说,大陆在两岸关系上常常有自己的解读方式,而台湾的国防部作战及计画参谋次长室次长姜振中则说,台湾军方有所准备,有能力痛击来犯的敌人。台湾的国防部会于周二(17日),对解放军在台海的演习一事进行情报报告。
台湾的国家政策基金会研究员李正修认为,台湾国防部至今仍然表示大陆演习没有针对性,有点粉饰太平的意味,因为如果真如台湾官方所说是例行演习,会在更早通知。但他亦指,今次大陆高调称是针对台独,反而会令台湾内部对大陆更为反抗。
李正修说︰如果是一个正常的演训的话,他们会更早就通知,不可能突然就通知说。当然针对性就很强,主要就是针对蔡英文,特别是赖清德,最近的一个讲话。目前蔡英文政府也没大做出过于紧端的手段去破坏两岸关系,那你做这样的一个宣示的话,那是不是,对台湾动辄得咎。
至于台湾军事专家、《军情与航空》网站主编施孝玮则认为,这次从军事规模来看,的确是一个例行操演,而国台办是对台单位,它把操练和「台独」作出政治联系,也是情理之中。他又说,虽然赖清德的言论,可以一定程度代表民进党的意识形态,但是在政策上,蔡英文也没有做出过份的举动,双方现在的情形应该以「冷对峙」来形容。
施孝玮说︰从军事角度来看,以划定的方向和区域来看的话,基本上是例行性的操演。而且本身就在岸边,也没有离开领海。国台办是对台机关,所以对外要作这样的连结。两边的情况是冷到不能再冷。蔡英文的做法是我对你不理不睬,双方的关系冷到不能再冷,这样的关系要有白热化的冲突或火花出来的话,需要蔡英文在政治上有非常强烈且明显的宣示。
台湾的行政院长赖清德于周日(15日)再重申「务实的台独工作者」一说法,他说「台湾是一个主权独立的国家,不必另外宣布台湾独立」,台湾的前途只有台湾岛上2300万人可决定。
两岸领导人习近平及蔡英文,在上周分别在前后一日检阅海军,习近平于上周四(12日)检阅后,福建海事局立即宣布会于本周三,在台湾海峡举行实弹军事演习。
The Taiwan Affairs Office of the State Council Lai Qingde exercise on Wednesday is aimed at "Taiwan independence"
2018-04-16
[ IMG]
[ IMG]
[ IMG]
[ IMG]
print
share it
comment
e-mail
[ IMG]
[ IMG]
00:00/00:00
[ IMG] [ IMG]
The Chinese People's Liberation Army announced that it held a military exercise on the Taiwan Strait on Wednesday (18th) and spread it online to Fujian's coastal cities. In the past few days, there have been fragments of large-scale military mobilization. Liu Jie, director of the Taiwan Affairs Office of the State Council, criticized Taiwan's Executive Yuan Lai Ching-te on Monday (16th) and pointed out that he was a "Taiwan independence" element. The reason for the exercise was "Taiwan's independence". However, the Taiwan Ministry of National Defence pointed out that the mainland is a constant military exercise and denies it is targeted. (Reported by Yang Mo)
The People's Liberation Army conducted live-fire exercises in the Taiwan Strait on Wednesday. Many online articles have been circulated as indications of large-scale military mobilization in the coastal cities of Fujian. They include a large number of armored vehicles and military vehicles traveling through the streets of Fuzhou. They are suspected to be driving along the coastal areas of Quanzhou.
It was allegedly a short film shot by a netizen of Fuzhou. A large number of military vehicles equipped with cannons flowed endlessly. After the spread of the short film, netizens were hotly debated. Internet users pointed out that these short films were taken last week. The station had telephoned Fuzhou to inquire, and many citizens said they had not seen it.
Liu Jie, director of the State Council's Taiwan Affairs Office, responded to reporters' questions after attending public events on Monday (16th), referring to Lai Chingde as a Taiwan independence and conducting live-fire military exercises held on the Taiwan Strait and Fujian coast on Wednesday (18th). Whether there is a warning of "Taiwan independence" or not, Liu Jieyi admitted that the military exercise was aimed at Taiwan independence and was aimed at defending sovereignty and territorial integrity. He also said that the mainland's stance is very clear and there is enough will to have confidence and ability to stop it. Any attempt to split the speech and behavior.
Taiwan also responded to the incident on Monday. When Peng Shengzhu, the director of Taiwan's National Security Administration, was asked if the exercise was related to Lai Qingde's "Taiwan independence worker" argument, he told reporters that the matter appeared to be "targeted," but he later changed his mouth when he asked for it. "Without being targeted," he added that in terms of the size of the PLA's current Taiwan Strait exercise, the Taiwanese side evaluated the exercise as an example.
Peng Shengzhu also said that mainland China often has its own interpretation of cross-strait relations, and Jiang Zhenzhong, the director of the Taiwanese Ministry of Defense's defense and planning assistant chief of staff, said that the Taiwan military is prepared to attack the enemies. The Ministry of National Defense of Taiwan will conduct an intelligence report on the PLA exercises in the Taiwan Strait on Tuesday (17th).
Li Zhengxiu, a researcher at the National Policy Foundation in Taiwan, believes that the Taiwan Ministry of National Defense still said that the mainland exercise was not targeted and that it was a little overshadowed by the fact that it would be notified earlier if it was actually a routine exercise by Taiwanese officials. However, he also pointed out that the mainland's mainland's high profile will be aimed at Taiwan's independence, but it will make Taiwan more resistant to the mainland.
Li Zhengxiu said: If it is a normal training, they will be notified earlier and it is impossible to inform them suddenly. Of course, targeting is very strong, mainly for Tsai Ing-wen, especially Lai Qingde, a recent speech. At present, the Tsai Ing-wen government has not made any too tight a means to destroy cross-strait relations. If you make such a declaration, does it mean that it will not succeed in Taiwan?
As for Taiwan's military expert and chief editor of the "Military and Aerospace" website, Shi Xiaoxuan believes that this time it is indeed a routine exercise in view of the military scale. The Taiwan Affairs Office of the State Council is a Taiwan unit that exercises political contact with "Taiwan's independence". It is also reasonable. He also said that although Lai Ching-te's remarks can represent the Democratic Progressive Party's ideology to some extent, but in terms of policy, Tsai Ing-wen did not make excessive moves. The current situation of both parties should be described as "cold confrontation".
Shi Hsiao-fu said: From a military point of view, looking at the direction and area designated is basically a routine exercise. And it was on the shore itself and it did not leave the territorial sea. The Taiwan Affairs Office of the State Council is a Taiwanese authority. Therefore, such links must be made externally. The situation on both sides is so cold that it can no longer be cold. Tsai Ing-wen's approach is that I ignore you and the relationship between the two parties is too cold to be cold. If there is to be heated conflicts or sparks, Tsai Ing-wen must have a very strong and obvious political declaration.
Taiwan's Executive Director Lai Ching-de reiterated on Sunday (15th) that "Taiwan is a sovereign and independent country and does not need to declare Taiwan's independence separately". Taiwan's future is only on Taiwan's islands. Twenty-three million people can decide.
Cross-strait leaders Xi Jinping and Tsai Ing-wen both reviewed the navy one day before and one last week. After Xi Jinping's inspection on Thursday (Thursday), the Maritime Affairs Bureau of Fujian immediately announced that it will hold live-fire exercises in the Taiwan Strait on Wednesday.
Use of assassinations